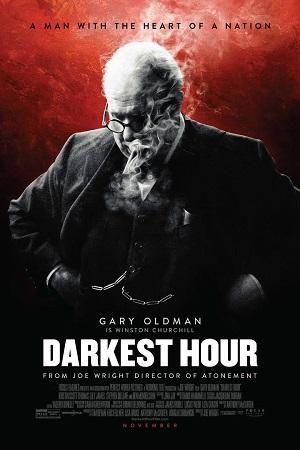 Running Time: 125 minutes
Six Academy Awards Nominations including: Best Picture, Best Actor and Best Cinematography
During the early days of World War II, with the fall of France imminent, Britain faces its darkest hour as the threat of invasion looms. As the seemingly unstoppable Nazi forces advance, and with the Allied army cornered on the beaches of Dunkirk, the fate of Western Europe hangs on the leadership of the newly-appointed British Prime Minister Winston Churchill (Academy Award nominee Gary Oldman). While maneuvering his political rivals, he must confront the ultimate choice: negotiate with Hitler and save the British people at a terrible cost or rally the nation and fight on against incredible odds. Darkest Hour is the dramatic and inspiring story of four weeks in 1940 during which Churchill's courage to lead changed the course of world history.
Directed By: Joe Wright
Cast: Gary Oldman, Kristin Scott Thomas, Stephen Dillane, Ronald Pickup, Ben Mendelsohn, and Lily James
What the critics are saying:
"Darkest Hour is a straightforward, day-by-day depiction of world-changing events, told with meticulous simplicity."
Moira MacDonald
"Oldman brings a wicked wit and compassionate heart to the role, one for which he seems almost superhumanly suited for - and that's really saying something, consider how many great actors have played Churchill."
Peter Howell, Toronto Star
"You come, and you stay, for Oldman ... [His performance is] uncanny, it's technically virtuosic, it's mesmerising ... [he] gets the humour, the doubt, the drunkenness, the moods, the intelligence, the heart and soul."
CJ Johnson, ABC Radio
 
Film Prices:
Lincoln Theatre Members get a $2 discount on the following prices:
General: $10.50
Seniors, Students and Active Military: $9.50
Children 12 and under: $8.00
Sunday Bargain Prices:
General: $9.00
Children 12 and under: $7.50
Add $2.00 to the above prices for 3D screenings
All prices include a $1.50 Preservation Fee that goes directly into our capital account for preservation of the Lincoln Theatre and its programs. 
 
Members have benefits: Click here http://www.lincolntheatre.org/benefits-membership for details.
 
Film dates and times are subject to change and extended runs. Please check back here, or our phone message at 360.336.8955, day of show.