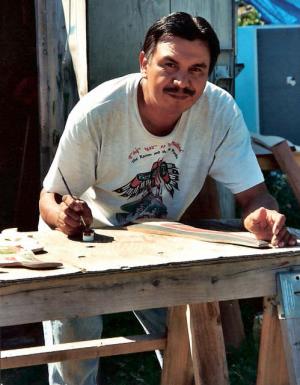 Kevin "Wa lee hub" Paul has lived all of his life in the Swinomish community. He graduated from La Conner High School in 1979, attended Skagit Valley College, and began carving in the Coast Salish tradition as a young man. Kevin's father and an uncle were master carvers.
Kevin's work will be on display in the Lincoln Theatre Art Bar from January 9th 2010 through February 28th, 2010.
A reception for the artist will be held on Saturday, January 9th from 5:30 - 7:30
 
 
Commissions are at the heart of Kevin's work. Many know him as the master carver whose art adorns our homes and  public spaces. "I need to know the person, see into their heart a little, to give them the best piece. My grandmother taught me," Kevin continues, "that where there is love, that is your best work."
 
Some also know Kevin as the skilled drummer who has performed so generously at local gatherings. With Kevin, however, family and community are as important as his art. "They go hand-in-hand," says Kevin.
 
Kevin has taught carving at La Conner High School since 1994 and serves as a Swinomish Tribal senator.  He has taught educators through the Museum of Northwest Art and worked as an artist-in-residence throughout the region.