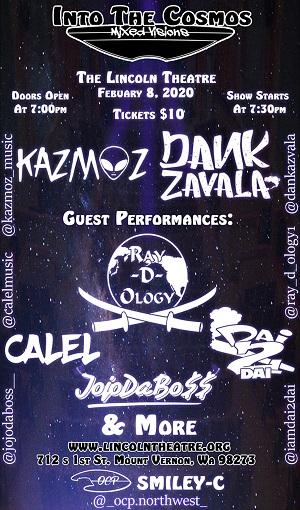 Saturday, February 8, 2020 - 7:00pm
Advance Festival Seating Tickets: $10.00 + applicable fees.
A PNW Hip Hop Show with Featured Artists:
*Julio Jimenez aka Kazmoz -  Born in Los Angeles but raised in the PNW, Kazmoz' main focus is to change the way people perceive reality in opening people's mind's. Whether that's through music or in a personal conversation, he has intentions to guide you to know yourself spiritually and emotionally. Kazmoz started writing music at the age of 12. At the age of 15 he started to take it to a serious level to chase as a profession. The 20 year old artist continues to grow everyday experimenting new sounds and making his own genre in the near future. Kazmoz gives off a Rap/Alternative Rock/Rap/Soulful Melodic and Experimental vibe.
*Dank Zavala - Artist | Producer from Mount Vernon, WA, creating his own distinctive sound through hip hop.
Others artists to be announced!
Doors at 7:00pm; Show at 7:30pm.
Mixed Visions is presented by Smiley-C and the Lincoln Theatre!