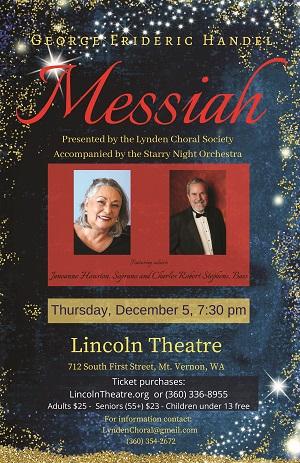 Thursday, December 5, 2019 - 7:30pm
Advance Festival Seating Tickets: $25.00 general admission; $23.00 Senior|Student; Children 13 and under are free with an accompanying adult.
The Lynden Choral Society accompanied by the Starry Night Orchestra performs Handel's Messiah.
For more than 100 years, it turns out, the singers of Lynden have united their voices in song for a public performance.
The Lynden Choral Society is made up of around 70 community members from in and around Lynden, WA, who sing for the love of singing. The organization has been in existence, under various names, since at least 1918. Over the years it has presented many types of programs in its fall and spring concert seasons, with frequent performances of Handel's "The Messiah" at Christmastime. From 1972 to 2002, the group was either directed by or accompanied by the late Claire vg Thomas. After she retired, a younger generation assumed leadership and began new collaborations with other local musicians. Since 2004, the choir has been directed by Gerald Rutgers.
In the orchestra world, George Frideric Handel's Messiah is every bit an annual Christmas tradition as eggnog and overworked shopping mall Santas.
The Messiah oratorio premiered in 1742 when the German-born Handel was the preeminent composer in his adopted home of the United Kingdom. Handel's name drew such a crowd that audience members were advised to leave their hoop skirts and swords at home for fear of overcrowding at the Messiah's Dublin premiere.