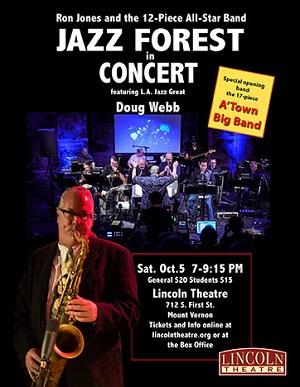 Saturday, October 5, 2019 - 7:00pm
Advance Festival Seating Tickets: $20 general; $15 students.
Jazz Forest is unlike most jazz groups. This group is led by veteran Hollywood TV and Film composer Ron Jones. His work scoring many of the most popular TV series such as Star Trek:TNG, Family Guy, American Dad and many more are heard around the world daily. Ron formed Jazz Forest as a way to bring high-energy, professionally performed and produced music to Northwest audiences. The band plays an eclectic mix of new compositions and arrangements that have deep roots in tradition while exploring the best of today's sounds. The players are each stand-out performers and leaders of their own groups and represent some of the best pros in the NW.
This concert features special guest artist, Doug Webb on Tenor Sax. Doug is one of the most in-demand players in Los Angeles. His credits include hundreds of recordings as well as hundreds of TV and Film soundtracks. He has performed with such greats as Horance Silver, Freddie Hubbard, Carly Simon, Art Garfunkle and Queen Latifah. Doug is the featured soloist on the motion picture soundtracks of Clint Eastwood's Million Dollar Baby and Gran Torino.
Ron Jones, Music Director, Arranger/Composer
Bill Anschell, Piano
Travis Ranney, Alto Sax
Jared Hall, Trumpet
Dan Marcus, Trombone
Doug Webb, Tenor Sax
Susan Pascal, Vibes
Frank Sussberger, Guitar
Greg Fulton, Guitar
Nate Omdal, Bass
Matt Jorgensen, Drums
Kyle Doran, Percussion
The 17-piece A'Town Big Band from Anacortes opens the concert!