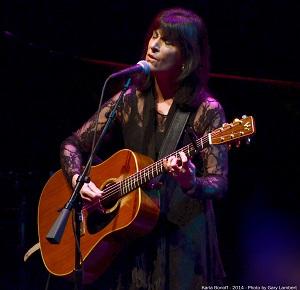 Friday, April 5, 2019 - 7:30pm
Advance Reserved Seating Tickets: $44 1st Section; $39 2nd Section; $34 3rd Section; $29 4th Section + applicable fees. Lincoln Theatre Members receive $2 off.
KARLA BONOFF  has been described as one of the finest singer/songwriters of her generation.  With a career spanning four decades, Bonoff has enjoyed critical acclaim, commercial success, enduring popularity and the unwavering respect of her peers. In addition to achieving chart success with her own recordings, Karla has seen her songs become hits for such stellar artists as Bonnie Raitt, Wynonna Judd and Linda Ronstadt. Many of Bonoff's ballads are now pop classics. All the while, she has continued to tour extensively, playing sold-out shows around the world.
As Ronstadt was scoring hits with Karla Bonoff songs, Karla herself was signed as a solo artist to Columbia Records in 1977. There, she not only recorded the three songs Linda had done, but also the hit single "I Can't Hold On" and the tune "Home," which later wound up on one of Bonnie Raitt's albums. The producer of this great first album [and the next two] was Karla's old friend and partner, Kenny Edwards. Bonoff then embarked on a solo tour to promote her album, and by the time she reached Seattle, "I Can't Hold On" was Number 1 in the Pacific Northwest. "I was headlining and I barely had enough songs to play," Karla recalls, still amazed at the memory. "So I just kept playing them longer!" She went from there to coveted spots on major tours, opening for James Taylor and Jackson Browne and earning a rave review in Time magazine. Two subsequent albums, "Restless Nights" [released in 1979] and "Wild Heart of the Young" [released in 1982], established Karla as one of LA's major artists and songwriters. Musicians such as Russ Kunkel, Joe Walsh, Waddy Wachtel, Danny Kortchmar, Don Henley, Timothy Schmit, Peter Frampton, Bill Payne, J.D. Souther, and her old partners from Bryndle, Wendy Waldman, Andrew Gold and Kenny Edwards all participated in the making of these wonderful records. Bonoff had a big hit with "Personally," from her album "Wild Heart of the Young" - a song Karla did not write. "I'm sure there're people out there who only know me from this song, but I really enjoyed singing and recording it."
In a 2000 magazine article, Karla described herself as "semi-retired" - content with going out on short tours a few times a month. But she's also talked of recording a new album as well - perhaps at home. "I'd like to make a record completely for myself, one that isn't governed by what other people in the business think it needs to be," she said. "I don't have to go audition. I don't need a record company to pay for it. I can put it out on the Internet and it doesn't really cost anything. If a record company picks it up, great. If they don't, it doesn't really matter." "I always had somebody mad at me because I wasn't making records, keeping up the pace," revealed Ms. Bonoff, who writes about four songs a year. "I'm really not that prolific - I think I've spent so much time trying to fit a round peg into a square hole that I just sort of worked my way out ofwanting to write anymore. And I got a bad taste in my mouth about not being able to just be myself. I think in the time I've taken off, I've watched music change to the point where I really see songwriters - and women in particular - being able to write about what they want to. So it encourages me to just go, 'You know what? I'm just going to write whatever I want, and I'm just going to make the record I want.'" 
In 2007, Karla finally released a live double CD, a project she had talked about for years. "I think many of these songs have improved with age and and I have never really documented what we do." Karla recorded all but one song of it at a small club in Santa Barbara with her long time touring band, Kenny Edwards and Nina Gerber, plus Scott Babcock on percussion.
Karla continues to perform all over America. Often after her concerts, Karla talks with fans and signs CDs and well-worn LP covers people bring to her shows. Japan has also been very supportive of Karla's music and she's toured there twice in recent years. An expanded version of her "Best Of" CD collection as well as Bryndle's "House of Silence" were released in Japan in 2002.
Karla's legacy as a writer and perseverance as a performer are spoken best in a Billboard Magazine review of Karla's "All My Life" recording. "Long before Alanis and Jewel, there was a breed of singer/songwriters whose earthly anthems of soul-searching, heartache and joy touched souls in a way few can muster today."
Karla performs with Nina Gerber on guitar.