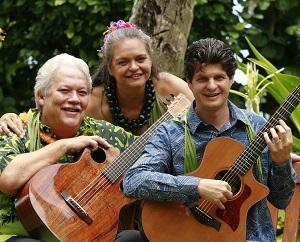 Thursday, January 16, 2020 - 7:30pm
$39 1st Section; $35 2nd Section; $29 3rd Section; $25 4th Section + applicable fees. Lincoln Theatre Members receive $2 off.
Keola Beamer & Jeff Peterson: Two Virtuosos of Slack Key Guitar presented by the Lincoln Theatre
"Keola Beamer is the Andres Segovia of the slack key guitar." – Long Beach Press Telegram
"[Jeff Peterson's] manner is impeccable, his style exquisite"… "Brilliant" -Honolulu Advertiser
One is a Hawaiian legend who has stretched the boundaries of slack key guitar music while remaining true to the soul of its deeply Hawaiian roots.
The other is a rising star of the next generation of slack key players, who uses the style's open tunings to explore multiple genres with ease and flair.
Together, they present an evening of superb guitar that explores the beauty of Hawaiian music as it reflects its native land, the range of Hawai'i's many cultural influences, and the complexity of technique that has shaped the distinctively resonant sounds of Hawai'i.
They are joined by lovely dancer Moanalani Beamer, who brings hula and Hawaiian chants to the stage, and adds musical texture with ancient Hawaiian instruments.
The open tunings of Hawaiian slack key guitar give these guitar masters the incredible ability to play almost any kind of music, with a many-layered sound that belies the fact that each is playing only one instrument.