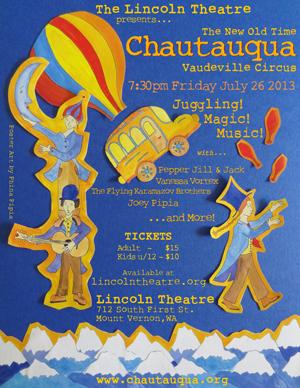 Friday, July 26, 2013 - 7:30pm
Tickets: $15 for adults, and $10 for kids (under 12) plus applicable fees.
Parade down First Street at 4:00pm
They're Back!
The New Old Time Chautauqua, a traveling educational vaudeville variety show, will be partnering with the Lincoln Theatre to present a unique 2-hour vaudeville show in Mount Vernon's Historic downtown.  
About the Show
For over 30 years the New Old Time Chautauqua has delighted audiences throughout
the Pacific Northwest with both local and internationally-acclaimed acts. Our variety show is an afternoon of fun and merriment for the whole family, and will include a selection of our touring talent: Internationally-acclaimed jugglers, the Flying Karamazov Brothers, magician Joey Pipia, many talented and sinuous trapeze artists, the musical stylings of vaudevillians Clay Mazing and Zacktastic, hula-hooper Vanessa Vortex, and countless others, including poets, dancers, mimes, puppeteers, acrobats, stilt-walkers, clowns, and musicians. Throughout, enjoy the rousing live music and zany wisecracks of the Fighting Instruments of Karma Marching Chamber Band/Orchestra.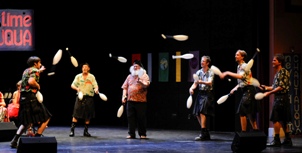 A History of Chautauqua(s)
"Chautauqua" was a cultural and social movement that started in the 1870s and flourished until the mid 1920s. During this time, hundreds of touring chautauquas presented lectures, dance, music, drama, and other forms of "cultural enrichment". Theodore Roosevelt once called the traveling chautauquas "the most American thing in America". This form of live entertainment faded with the growing popularity of radio and motion pictures. The New Old Time Chautauqua (NOTC) was founded in 1981 by a group of adventurous performers, health care practitioners, and educators-including the Flying Karamazov Brothers and Dr. Patch Adams. The idea was to revive the lively Chautauqua spirit and bring live entertainment and educational workshops to diverse communities. With the intention of inspiring creativity and supporting community, our traveling troupe partners with local organizations and service groups to present Chautauqua events. We aim to delight, educate, amaze, and provoke the imagination of adults and children alike. The all-volunteer 50+ person troupe has staged a 2-5 week summer tours in areas throughout California, Oregon, Washington, Idaho, Montana, Alaska and British Columbia. In Spring 2006, NOTC traveled to New Orleans and the coast of Mississippi and brought free entertainment and friendship to Hurricane Katrina survivors and volunteer relief workers.