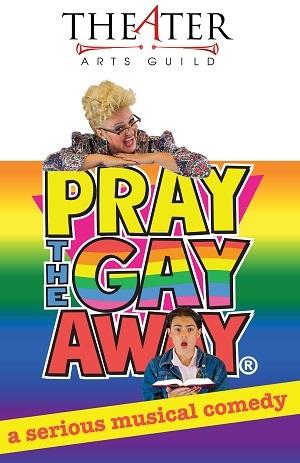 Friday, November 8, 2019 - 7:30pm
Saturday, November 9, 2019 - 7:30pm
Sunday, November 10, 2019 - 2:00pm
Thursday, November 14, 2019 - 7:30pm
Friday, November 15, 2019 - 7:30pm
Saturday, November 16, 2019 - 7:30pm
Sunday, November 17, 2019 - 2:00pm
Friday, November 22, 2019 - 7:30pm
Saturday, November 23, 2019 - 7:30pm
Sunday, November 24, 2019 - 2:00pm
Advance Reserved Seating Tickets: $24 1st Section; $20 2nd Section; $13 3rd Section + applicable fees.
The first two rows of seats are removed to accommodate the thrust stage. The front section house left is held for the orchestra.
Theater Arts Guild presents the world premiere of Pray the Gay Away ®, a serious musical comedy. This highly anticipated and controversial live stage show packs plenty of blissful sacrilege and politically incorrect mischief into a reflection of U.S. culture that is humorous, beautiful, shocking, sweet, thought-provoking and incredibly heart-breaking. 
Pray the Gay Away takes place in 1980's Minnetonka, Minnesota and shows the collision course of two boys being subjected to the controversial practice of gay conversion therapy, the Lutheran Church - Missouri Synod statement that "homosexual behavior is intrinsically sinful", a Youth Pride LGBTQ support group fighting for human rights, and the local community caught in the middle.
For his fourth full-length musical, Conrad Askland, former music director of Cirque du Soleil and Rock of Ages, has trained his satirical missile system on the cultural, political and theological forces that surround the painful world of gay conversion therapy and the "pray away the gay" movement. This is a big, full-blooded musical with an irreverently comic heart that is also heart-breaking and emotionally charged. Pray the Gay Away pulls up the carpet to expose the underlying U.S. religious, political and cultural attitudes surrounding homosexuality and our understanding of human rights.
Possibly God's second-favorite musical.
Self-rated at PG-13 for mature themes and highly emotional content. A production preview guide is provided on this page.
Visit the PTGA Website 
Visit the official site for news, updates and more
People are Talking 
See what people are saying on Facebook
Production Preview Guide
Read details of show content
Presented by Theater Arts Guild
Book, Music and Lyrics by Conrad Askland
Directed by Lindsey Bowen and Gabe Guevara
Choreography by Donna Carroll
Costumes by Kathryn Gildnes
Produced by Matt Bianconi, Kim Turner and Brett Madden