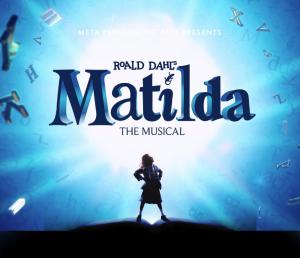 Friday, October 18, 2019 - 7:30pm
Saturday, October 19, 2019 - 7:30pm
Sunday, October 20, 2019 - 2:00pm
Wednesday, October 23, 2019 - 7:30pm
Thursday, October 24, 2019 - 7:30pm
Friday, October 25, 2019 - 7:30pm
Saturday, October 26, 2019 - 7:30pm
Sunday, October 27, 2019 - 2:00pm
Friday, November 1, 2019 - 7:30pm
Saturday, November 2, 2019 - 2:00pm
Saturday, November 2, 2019 - 7:30pm
Advance Reserved Seating Tickets: $28 1st Section; $22.50 2nd Section; $18 3rd Section + applicable fees. The Wednesday, October 23 show is Family Night: Festival Seating Tickets: $10.
Note: The first two rows of seats are removed to accommodate the thrust stage. The front section house left is held for the orchestra.
META Performing Arts production of Roald Dahl's Matilda the Musical: The story of an extraordinary girl who, armed with a vivid imagination and a sharp mind, dares to take a stand and change her own destiny.
Inspired by the twisted genius of Roald Dahl, the Tony Award-winning Roald Dahl's Matilda The Musical is the captivating masterpiece from the Royal Shakespeare Company that revels in the anarchy of childhood, the power of imagination and the inspiring story of a girl who dreams of a better life. With book by Dennis Kelly and original songs by Tim Minchin, Matilda has won 47 international awards and continues to thrill sold-out audiences of all ages around the world.
DIRECTOR: TJ FANTINI
PRODUCER: DONNA DUPRAS
Tickets for Wednesday, October 23 Family Night are available by clicking here.