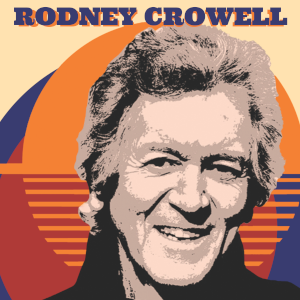 Thursday, May 11, 7:30 pm
Tickets go on pre-sale to Lincoln Theatre Members on Friday, March 3 at 10:00am. Tickets go on sale to the General Public on Friday, March 10 at 10:00am.
The Lincoln Theatre is proud to present Rodney Crowell: The Chicago Sessions Tour with Special Guests Rob Ickes and Trey Hensley.
Born and raised in Texas, two-time Grammy winner Rodney Crowell arrived in Nashville in the early 1970s, coming to prominence first as a writer before establishing himself as a critically acclaimed solo artist in his own right. With 15 number-one hits under his belt and tracks recorded by everyone from Emmylou Harris and Johnny Cash to Waylon Jennings and Willie Nelson, it would be difficult to overstate Crowell's impact on roots music over the past five decades.
In 2003, he was inducted into the Nashville Songwriters Hall of Fame; in 2006 he received the Lifetime Achievement Award in Songwriting from the Americana Music Association; in 2017, he was honored with ASCAP's prestigious Founder's Award; and in 2019, he was presented with the Academy of Country Music's Poet's Award.
In addition to his prolific output as an artist and producer, Crowell also found time to become a celebrated author, too, publishing a memoir and a lyrical retrospective to widespread praise. Along the way, NPR declared him the "literally inclined elder statesman of the Americana scene," while Rolling Stone hailed him as a "country music trailblazer," and the New York Times proclaimed that his songwriting "gets better and sharper with age."
Produced by Jeff Tweedy, Crowell's brilliant new album, The Chicago Sessions, is as incisive, engaging, and vital as ever, touching on everything from love and mortality to race and religion as it balances careful craftsmanship with joyful liberation at every turn.
Advance Reserved Seating Tickets: $70 1st Tier; $60 2nd Tier; $50 3rd Tier; $40 4th Tier + applicable fees. Lincoln Theatre Members receive $2 off all seating tiers.