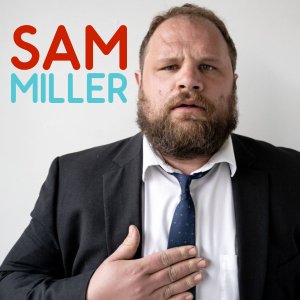 Cozy Comedy presents National Headlining Comedian Sam Miller for one night only!
Sam is from Olympia, Washington. He is 6 foot 6, 360 pounds, and has 2 kids (one of them is on purpose). Sam's been married for 11 years and has also been clean and sober for 14 years. Sam is the rare comedian who can joke about what it's like to be a sober parent and what jail is like in Yakima. His unique story and authentic style has taken him to comedy clubs, theaters and dive bars across the county.
Sam's career is on the rise! His first album and special, Round Trip, was recently recorded and filmed under the tutelage of Grammy-winning producer Dan Schlissel, whose indie label Stand Up! Records Sam had recently signed a three-album deal with. Sam has been a guest on "The Bob and Tom Show" heard by 2.5 million listeners everyday. He has been featured on KING 5, Q-13 Fox, the Seattle Times and the Olympian.
Sam was the runner-up in the 2021 Seattle International Comedy Competition and won the Comedy on Trial Competition in 2017. He's also performed with the Addicts Comedy Tour and at NA and AA conventions all over the northwest. For 3 consecutive years he won awards in "The Best of Olympia" issue of the Weekly Volcano: 2016 Best Local Hero, 2017 Best Local Celebrity, and 2018 Best Comic Relief.
Featuring Vanessa Dawn
Comedian Vanessa Dawn is from Tulsa, Oklahoma, now living in the Pacific Northwest. Her relaxed comedy style sneaks up on you like an unmarked car at a DUI checkpoint.
She has performed at the Seattle International Comedy Competition, Blue Whale Comedy Festival, Black Girl Giggles Comedy Festival, Northwest Women's Comedy Festival, and Northwest Black Comedy Festival and performs regularly at clubs and casinos throughout the Northwest. She has worked with Brian Posehn, Sarah Colonna, and Jubal Flagg.
Hosted by Travis Sherer
Your host for the night is Travis Sherer. Travis' comedy is fueled by the tiny slights he experiences daily, primarily from his family. From his mother who says his headshots look great because he looks like his brother to his wife who calls his comedy "not overly masculine," Travis airs his grievances on stage because it's easier than setting boundaries. An overmatched father of two girls, Travis examines the indignities and parenthood and reflects on the realization that jokes are the way he can fight back.
Based out of Seattle, Travis has performed in comedy clubs, casinos, and festivals across the country. He's shared the stage with some of the Pacific Northwest's best comics, including Brad Upton, Nancy Norton, Kermet Apio, Gabriel Rutledge, and Susan Rice. He even lost at poker once to Ray Ramano.
Advance General Seating Tickets: $20 (all seats) + applicable fees. A Cozy Comedy presentation; membership discounts do not apply.