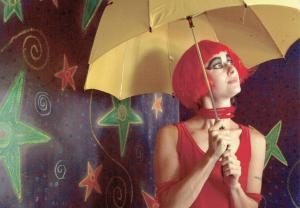 I cannot remember a time when I did not make art. I grew up in a family where art was part of everyday life. My mother sewed clothing and dolls, my father made dioramas, my sister took fabulous photos, and my brother made stop action films. Art is still part of my daily life.
The paintings in this show combine my love of pattern with Doodles collected from a variety of sketchbooks.  The sculptures are mostly extensions of the creatures that appear in my paintings.
I enjoy how the sculpture's personality emerges as Paper Mache is added. I am often surprised by how much a sculpture changes from the first thought to the final result. My favorite part of the process is painting the eye-ball dots (pupils). This is when the sculpture comes to life!
There is no deep message to find here, no philosophical or political statement hiding within. There is plenty of soul-searching these days, but for the brief time that you are here, with my artwork, please relax, take it in, and hopefully have a nice chuckle.
Meet Clare on Saturday, February 3rd from 5:30pm - 7:30pm for an opening reception and again on Saturday, February 10 from 2:00 - 5:00pm for the Downtown Mount Vernon Birds of Winter Art Walk.