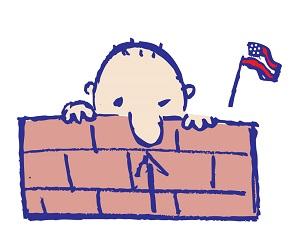 Wednesday, Jan 29, 6:30 pm
KILROY WAS HERE is an American symbol that became popular during World War II, typically seen in graffiti on walls and floors of places U.S.A. servicemen visited, letting everyone know that America was here. Its origin is debated, no one really knows how it got started, but the phrase and the distinctive accompanying doodle became associated with GIs in the 1940s: a bald-headed man depicted as having a few hairs with a prominent nose peeking over a wall with his fingers clutching the wall. 
This is your chance to find out how the whole thing "really" got started. Salute the brave men and women serving in the military with this patriotic comedy.  Experience a U.S.O. Club in Brooklyn in 1942.  Ships leaving the nearby Navy yard are being sunk by enemy U-boats.  Allied intelligence suspects the club is unknowingly harboring Axis spies.  Private Joe Kilroy, a young soldier is causing trouble at every turn because he draws a curious cartoon face everywhere he goes. The enemy agents are stopping at nothing to learn American secrets.  In the end, the wild radio broadcast is where everything is revealed and the whole thing makes sense.  
The score includes 1940s hits with classic Andrews Sisters style harmony, as well as patriotic songs, with an opportunity to honor our servicemen and all they have done for us and our country. 
January 28 and 29, 6:30pm. Free admission with festival seating. Doors open at 5:45pm.