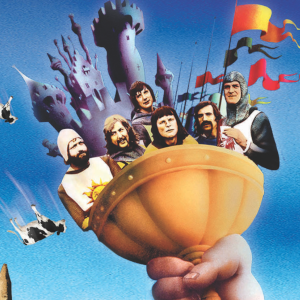 Join us at the Lincoln Theatre for the Monty Python and the Holy Grail Sing-Along!
Widely regarded by critics and audiences alike as the single greatest accomplishment of human existence, Monty Python's epic tale of King Arthur and his Knights of the Round Table returns to cinemas -- and we'd like you to sing along with it!
Follow the bouncing ball and join in on the revelry at Camelot! Regale Sir Robin with tales of his bravery! Ni Ni Ni all night long!
Also, your ticket price includes a pair of coconuts -- so that you can help King Arthur, his faithful servant Patsy, and the rest of the troupe get to wherever they may be going by clippy-clopping your heart out!
Directed by: Terry Jones and Terry Gilliam
Cast: Graham Chapman, John Cleese, Eric Idle, Terry Gilliam, Terry Jones, Michael Palin
United Kingdom | English | 1975 | Comedy, Adventure, Musical | 91 minutes | PG
Masks are recommended but not required.
COVID SAFETY PROTOCOLS CAN BE FOUND HERE.
Film Prices
Lincoln Theatre Members get $2.00 off on the following prices with discount code:
Film Event Special Price: $15 (film passes do not apply)
All prices include a $2.00 Preservation Fee that goes directly into our capital account for the preservation of the Lincoln Theatre and its programs.