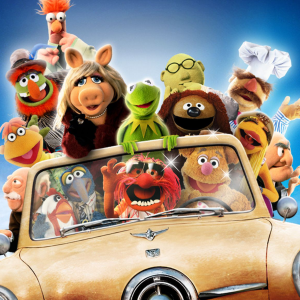 Please join us for this special celebration of the life and legacy of Jim Henson, creator of the Muppets, on his birthday -- September 24. Two bargain-priced Sunday showings to choose from -- bring the whole family!
In the Muppets' first feature film, Kermit the Frog decides to pursue a movie career and starts a cross-country trip from Florida to California.
Along the way, he meets and befriends Fozzie Bear, Miss Piggy, Gonzo, and rock musicians Dr. Teeth and the Electric Mayhem.
When Kermit is offered a job by Doc Hopper (Charles Durning) to advertise the fried frog legs at Doc's restaurant chain, Kermit turns Hopper down. However, Hopper refuses to relent and pursues Kermit and his companions to a final showdown.
"There are few things as pure and inspirational (in all senses of the word) as The Muppet Movie." —Jason Shawhan, Nashville Scene
"We get to know all the Muppets... They turn out, somehow, to have many of the same emotions and motivations that we do. They are vain and hopeful, selfish and generous, complicated and true. They mirror ourselves, except that they're a little nicer." —Roger Ebert
Directed by: James Frawley
Cast: Jim Henson, Frank Oz, Jerry Nelson, Richard Hunt, Dave Goelz, Charles Durning, Austin Pendleton
Featuring cameo appearances by: Dom DeLuise, Madeline Kahn, Telly Savalas, Carol Kane, Milton Berle, Edgar Bergen and Charlie McCarthy, Bob Hope, Richard Pryor, Steve Martin, Mel Brooks, Orson Welles, and more!
United States | English | 1979 | Family, Comedy, Adventure | 95 minutes | G
Masks are recommended but not required.
COVID SAFETY PROTOCOLS CAN BE FOUND HERE.
Film Prices
Lincoln Theatre Members get $2.00 off on the following prices with discount code:
SUNDAY BARGAIN PRICES:
General: $9.50
Children 12 and under: $8.00
All prices include a $2.00 Preservation Fee that goes directly into our capital account for the preservation of the Lincoln Theatre and its programs.