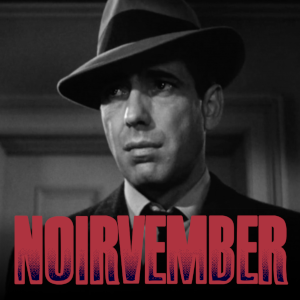 Tuesday, Nov 7, 7:30 pm - The Maltese Falcon
Tuesday, Nov 14, 7:30 pm - Laura
Tuesday, Nov 21, 7:30 pm - Touch of Evil
For the first three Tuesdays in November, join us at the Lincoln Theatre to watch a classic Film Noir -- in glorious 35mm! Noirvember is back!
Film Noir -- the home of femmes fatales, hardboiled gumshoes, and desperate plans gone horribly awry -- saw its heyday in American crime flicks of the '40s and '50s.
Now, the Lincoln Theatre fires up its 35mm movie projectors to transport you back to those heady days! Come sit in the dark with us and experience the world of Film Noir -- where it's always night.
Check out this killer lineup:
November 7: The Maltese Falcon
The Maltese Falcon casts a long shadow as the quintessential film noir -- instantly recognizable by everything from its players to its props, it's one of the most influential films of all time.
In one of his finest roles, Humphrey Bogart portrays detective Sam Spade, who gets more than he bargained for when he takes a case brought to him by a beautiful but secretive woman (Mary Astor). Sam quickly becomes entangled in a dangerous web of crime and intrigue, set upon on all sides by a collection of shady characters (including Peter Lorre, Sydney Greenstreet, and Elisha Cook Jr.) -- and he soon realizes he must find the one thing they all seem to want: an invaluable statue called the Maltese Falcon.
Directed by John Huston
Starring Humphrey Bogart, Mary Astor, Peter Lorre, Sydney Greenstreet, Elisha Cook Jr.
United States | English | 1941 | Film Noir | 100 minutes | GP
November 14: Laura
Laura balances a crackling whodunit murder mystery with a psychological portrait of obsession, making it just as gripping now as when it was originally released.
Manhattan detective Mark McPherson (Dana Andrews) investigates the death of Madison Avenue executive Laura Hunt (Gene Tierney), killed in her fashionable apartment. On the trail of her murderer, McPherson quizzes Laura's arrogant best friend, gossip columnist Waldo Lydecker (Clifton Webb), and her somewhat meek fiance Shelby Carpenter (Vincent Price, before he became a horror film icon).
As the detective grows obsessed with the case, he finds himself falling in love with the dead woman.
Directed by Otto Preminger
Starring Gene Tierney, Dana Andrews, Clifton Webb, Vincent Price
United States | English | 1944 | Film Noir | 88 minutes | GP
November 21: Touch of Evil
One of Orson Welles' greatest accomplishments -- and that's a high bar -- is the towering masterpiece of cinema Touch of Evil. Widely considered to be the last of the "classic noir" period of Hollywood; its sophisticated camerawork and willingness to indulge in the grim and perverse reflects this.
When a car bomb explodes on the American side of the U.S./Mexico border, Mexican drug enforcement agent Miguel Vargas (Charlton Heston) begins his investigation, along with American police captain Hank Quinlan (Orson Welles). When Vargas begins to suspect that Quinlan and his shady partner Menzies (Joseph Calleia) are planting evidence to frame an innocent man, his investigations into their possible corruption quickly put himself and his new bride, Susie (Janet Leigh), in jeopardy.
Directed by Orson Welles
Starring Charlton Heston, Orson Welles, Janet Leigh, Joseph Calleia, Marlene Dietrich, Akim Tamiroff
United States | English | 1958 | Film Noir | 95 minutes | PG-13
Masks are recommended but not required.
COVID SAFETY PROTOCOLS CAN BE FOUND HERE.
Film Prices
Lincoln Theatre Members get $2.00 off on the following prices with discount code:
General: $11.00
Seniors, Students, and Active Military: $10.00
Children 12 and under: $8.50
(The Cat and the Canary is a special event: $15, no passes, member discount still applies.)
All prices include a $2.00 Preservation Fee that goes directly into our capital account for the preservation of the Lincoln Theatre and its programs.