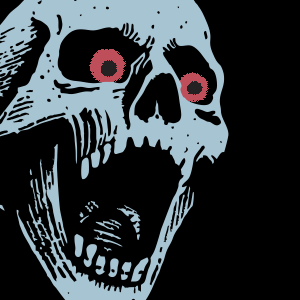 Friday, Sept 29, 7:30 pm - The Cat and the Canary
Wednesday, Oct 4, 7:30 pm - House of Wax in 3D
Wednesday, Oct 11, 7:30 pm - The Wicker Man
Wednesday, Oct 18, 7:30 pm - Frankenstein
Wednesday, Oct 25, 7:30 pm - Psycho
Thursday, Oct 26, 7:30 pm - 78/52: Hitchcock's Shower Scene
Saturday, Oct 28, 7:30 pm - The Rocky Horror Picture Show
Saturday, Oct 28, Midnight - The Rocky Horror Picture Show "Sloppy Seconds"
Get into the spooky season with our new Lincoln Film Series: Tales from the Silver Scream! Keep your spine tingling at the Lincoln -- throughout the month of October!
Check out this lineup:
September 29: The Cat and the Canary
CELEBRATE NATIONAL SILENT FILM DAY AT THE LINCOLN!
We've got a special treat for you for National Silent Film Day -- the world premiere of the brand-new 4k remaster of the 1927 silent film The Cat and the Canary, a comedic thriller full of spooky thrills and lots of laughs, presented in a new restored and remastered version.
Renowned musician Corey J. Brewer will be debuting a brand new soundtrack for the film on our stage -- composed and performed live just for us.
United States | English | 2003 | Comedy, Music | 109 minutes | PG-13
October 4: House of Wax in 3D
Horror film legend Vincent Price stars as wax sculptor Henry Jarrod, who is horrified to learn that his business partner, Matthew (Roy Roberts), plans on burning down their wax museum to collect on the insurance policy. Henry miraculously survives a fiery conflagration and re-emerges some years hence with a museum of his own -- an event which coincides with the disappearance of corpses from the local morgue!
When Jarrod meets art student Sue Allen (Phyllis Kirk) -- and realizes that she'd be the perfect "model" for a wax statue of Marie Antoinette -- his obsession puts her life in grave danger.
Equal parts gruesome and delightful, come see House of Wax the way it was meant to be seen -- on the big screen in 3D.
United States | English | 1953 | Horror | 88 minutes | GP
October 11: The Wicker Man
Join us in celebrating the 50th Anniversary of the quintessential "folk horror" classic The Wicker Man with the new 4k remaster of the director-approved final cut.
Speaking of celebrations -- there's one brewing on the remote island Summerisle, as the residents are anticipating the annual May Day festival. In their midst arrives Sgt. Neil Howie (Edward Woodward), investigating the disappearance of a child. As he questions the recalcitrant residents -- including Lord Summerisle (Christopher Lee, in what he called his favorite role) and the alluring Willow (Britt Eklund), he increasingly finds that his Christian faith is at odds with the island's pagan community.
Fifty years on, and the source of parodies, memes, and a Nicolas Cage remake, the film -- and particularly its conclusion -- remains as powerful and disturbing as ever.
United Kingdom | English | 1973 | Horror | 94 minutes | R
October 18: Frankenstein
The single most iconic monster movie of all time, Frankenstein, stomps its way back to the Lincoln screen in this special presentation hosted by special effects expert Todd Masters (True Blood, Slither).
Boris Karloff makes an indelible, unforgettable impression as the monster created by Dr. Henry Frankenstein (Colin Clive). Join us at the Lincoln and discover why Frankenstein has held audiences in thrall for over ninety years.
Screening will be accompanied by Todd Masters' presentation "How to Make a Monster," including a Q&A session.
United States | English | 1931 | Horror | 70 minutes | NR (suitable for all audiences)
October 25: Psycho
Alfred Hitchcock's infamous shocker Psycho left an permanent mark on the horror genre -- and now you can witness it in all its timeless power on our big screen, hosted by Hitchcock expert Alexandre O. Philippe (78/52: Hitchcock's Shower Scene).
When secretary Marion Crane (Janet Leigh) goes on the lam after stealing $40,000 from her employer, she stops for the night at the ramshackle Bates Motel and meets the polite but highly strung proprietor Norman Bates (Anthony Perkins), a young man with a difficult relationship with his mother.
"Rather amusing." —Alfred Hitchcock
United States | English | 1960 | Horror, Thriller | 109 minutes | R
October 26: 78/52: Hitchcock's Shower Scene
After you've seen Psycho, come back the next night and let our host Alexandre Philippe pull back the curtain with his documentary examining that film's shower scene (which was composed of 78 setups and 52 cuts).
An in-depth look at Hitchcock's most enduring imagery, the documentary features Guillermo del Toro, Jamie Lee Curtis, Peter Bogdanovich, Bret Easton Ellis, Leigh Whannell, Karyn Kusama, and more, each offering their unique insights on the screen murder that profoundly changed world cinema.
Screening will be accompanied by a Q&A with director Alexandre Philippe.
United States | English | 2017 | Documentary, Horror | 91 minutes | NR
October 28: The Rocky Horror Picture Show
The undisputed king of cult classics returns to the Lincoln! With showings at both 7:30 pm and midnight, pick your favorite time to do the Time Warp! (Please note that our midnight showing is a "Sloppy Seconds" show -- the theatre may not be entirely cleaned up from the previous showing.)
Looking for the swag? White Branches has you covered! Pre-order your Reveler's Packages, which contain all of the fun interactive movie-goer essentials for only $5. Pick them up at White Branches (located at 100 E Montgomery St., above Il Granaio restaurant) before the show during their normal business hours. We will also have Reveler's Packages for sale at the show, but only while supplies last -- so to ensure that you get the best Rocky Horror experience, pre-order by clicking right here.
Looking for The Full Rocky? If you buy tickets for Rocky Horror and any of White Branches' Halloween-themed Timewarp Burlesque Halloween Mind Trip shows, you'll get a Reveler's Package for free. Go to White Branches' website and pick your preferred Timewarp time (Friday Oct 27 at 7:00 pm, Saturday Oct 28 at 3:00 pm, Saturday Oct 28 at 7:00) and show the friendly folks your Rocky Horror ticket/receipt to get your hands on that sweet sweet package.
United States | English | 1975 | Horror, Musical, Comedy | 100 minutes | R
Masks are recommended but not required.
COVID SAFETY PROTOCOLS CAN BE FOUND HERE.
Film Prices
Lincoln Theatre Members get $2.00 off on the following prices with discount code:
General: $11.00
Seniors, Students, and Active Military: $10.00
Children 12 and under: $8.50
(The Cat and the Canary is a special event: $15, no passes, member discount still applies.)
All prices include a $2.00 Preservation Fee that goes directly into our capital account for the preservation of the Lincoln Theatre and its programs.