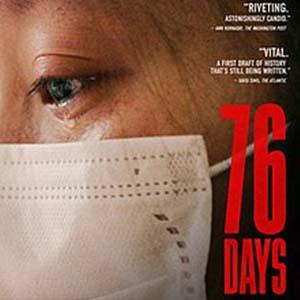 Friday, Jan 22 (All day)

to

Thursday, Feb 11 (All day)
QUARANTINE CINEMA OFFERING
AVAILABLE BEGINNING JANUARY 22 

January 23, 2021, marks the one year anniversary of the world's first COVID-19 lockdown of a city in Wuhan, China. 
A raw, fly-on-the-wall recounting of hospital life in Wuhan in the early days of the COVID-19 pandemic, 76 Days is an engrossing and potent documentary - and a surprisingly comforting portrait of humanity.
"That it's so artfully and elegantly observed, and packs such a candid wallop of feeling, atop its frontline urgency is testament to the grace and sensitivity of its directorial team, not just their timely savvy." - Owen Gleiberman, Variety
"Another 'can you believe it' story that I suspect will captivate people wherever they can see it." - Guy Lodge, Variety
In addition to the feature, there's a pre-recorded Q&A with director Hao Wu available to watch for free for all ticket buyers.
Director: Hao Wu, Weixi Chen
USA China | Mandarin with English subtitles | 2020 | Documentary | 93 minutes | NR 
Virtual Tickets: $12.00. 50% of the proceeds support the Lincoln Theatre! Renting a virtual film through the Lincoln is a great opportunity for patrons to show their support for us during quarantine. Many of the virtural films are available to send as gifts.
HOW TO WATCH: TELEVISION (via APPLE TV, ROKU, CHROMECAST, or downloaded app on your smart TV) | MOBILE DEVICE (iPhone, iPad, Android) | COMPUTER (by clicking on the streaming link).
For more information on how the rental works:
Click the BUY TICKETS button above to purchase entry to our digital screening room.
Create an account – it's very easy! – and complete your purchase. 
For general help go to our Streaming Information Page HERE.
For any questions regarding streaming, device, connection, or payment issues, reach out directly streaming platform HERE.
For other questions, please feel free to reach out to us at admin@lincolntheatre.org