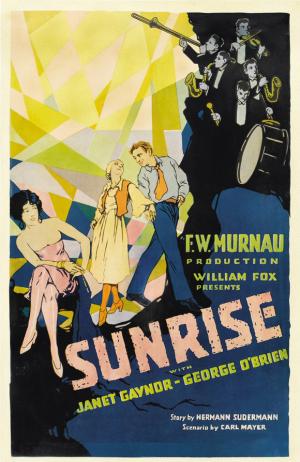 Saturday, Apr 25, 7:00 pm
F.W. Murnau's Sunrise; A Song of Two Humans
The Historic Lincoln Theatre celebrates its 94th Anniversary with a special screening of F.W Murnau's 1927 silent film masterpiece, Sunrise, for a special 1926 opening night price of thirty-five cents!
Considered by many to be the finest silent film ever made by a Hollywood studio, F.W. Murnau's Sunrise represents the art of the wordless cinema at its zenith. Based on the Hermann Sudermann novel A Trip to Tilsit, this "Song of Two Humans" takes place in a colorful farming community, where people from the city regularly take their weekend holidays. Local farmer George O'Brien, happily married to Janet Gaynor, falls under the seductive spell of Margaret Livingston, a temptress from The City. He callously ignores his wife and child and strips his farm of its wealth on behalf of Livingston, but even this fails to satisfy her. One foggy evening, O'Brien meets Livingston at their usual swampland trysting place. She bewitches him with stories about the city -- its jazz, its bright lights, its erotic excitement. Thrilled at the prospect of running off with Livingston, O'Brien stops short: "What about my wife?" Drawing ever closer to her victim, Livingston murmurs "Couldn't she just...drown?" (the subtitle bearing these words then "melts" into nothingness). Together with Seventh Heaven, Sunrise earned Janet Gaynor the first-ever Best Actress Academy Award, while Charles Rosher and Karl Struss walked home with the industry's first Best Photography Oscar. The film itself won the Oscar for Best Unique and Artistic Production.
"Boasting masterful cinematography to match its well-acted, wonderfully romantic storyline, Sunrise is perhaps the final -- and arguably definitive -- statement of the silent era" - Certified Fresh on Rotten Tomatoes.
​The Silent Film Screening will be accompanied on the Mighty Wurlitzer by Harvey Rossiter! 
 Fred Beeks, and Nick Nicolai will perform during the pre-show. 
We'll wrap up the evening with Birthday Cake and refreshments.
All of this entertainment for our opening night price of only 35 cents! Arrive early!