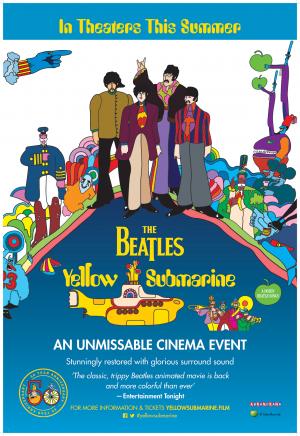 Saturday, Jul 14, 7:30 pm
Singalong Version Added for Tuesday Night's Screening.
To celebrate its 50th Anniversary, The Beatles Yellow Submarine will be returning to the big screen in July for a very special cinema event. The blues-banishing news that The Beatles' legendary animated hit film Yellow Submarine is returning to cinemas across the UK and Ireland for one night only on 8 July 2018 and screens at the Lincoln beginning Friday, July 13. On Tuesday, July 17 we'll end the run with the Singalong Version! Children 5 and under Free. Babes in Arms Welcome!​
An unmissable cinema event, this momentous big-screen revival will give generations of audiences the golden opportunity to revisit Pepperland for the 50th anniversary of the film's original release. The visionary feature film designed by the great art director Heinz Edelmann can now be experienced in glorious surround sound with the groundbreaking animation stunningly-remastered. Looking and sounding better than ever before, join John, Paul, George and Ringo on the technicolour adventure of a lifetime. Illustrated with mind-bending moving images, Yellow Submarine tells the story of how The Beatles battle the music-hating Blue Meanies armed only with the power of love. From Lucy In The Sky With Diamonds to Nowhere Man, and Eleanor Rigby to All You Need Is Love, Yellow Submarine features some of the most-loved songs from the greatest band the world has ever known. An exuberant fusion of music, film and art, Yellow Submarine is a landmark cinematic experience that is as fun and vibrant as it was in 1968. With tickets on sale now, get ready to set sail for the Sea of Green with the Fab Four once again. 
Go to the brand new Facebook page for updates and news about this exciting event: facebook.com/yellowsubmarinethefilm
Director: George Dunning
Cast: John Lennon, Paul McCartney, George Harrison and Ringo Starr.
"One of the most perfect pieces of moving art ever made." - The Simpsons writer Josh Weinstein 
 
"A garish, gorgeous example of pop art at its finest, Yellow Submarine's reappearance should give a whole new generation a chance to discover the legends." - Caroline Westbrook - EMPIRE - ★★★★
"Yellow Submarine remains a masterpiece." - The Big Issue
Coloring Contest:
In celebration of this event, the Lincoln is holding a coloring contest to win fabulous collectable prizes such as a 50th Anniversary Movie Poster, a 50th Anniversary Comic Book, or a 50th Anniversary Picture Book. Prizes will be awarded by a random drawing of all entries recieved on Thursday, July 19. You can pick up copies of the color pages in our lobby or download color pages Here. Please return with your name and email by Wednesday, July 18.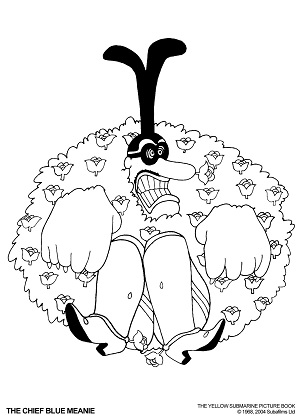 Film Prices:
Lincoln Theatre Members get a $2 discount on the following prices:
General: $10.50
Seniors, Students and Active Military: $9.50
Children 12 and under: $8.00
Sunday Bargain Prices:
General: $9.00
Children 12 and under: $7.50
All prices include a $1.50 Preservation Fee that goes directly into our capital account for preservation of the Lincoln Theatre and its programs. 
 
Members have benefits: Click here for details