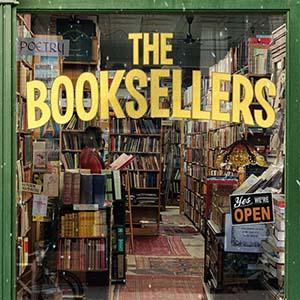 Friday, May 22 (All day)

to

Thursday, Jun 11 (All day)
VIRTUAL CINEMA OFFERING
OPENS FRIDAY MAY 22

D.W. Young's elegant and absorbing documentary is a lively tour of New York's book world, populated by an assortment of obsessives, intellects, eccentrics and dreamers, past and present: from the Park Avenue Armory's annual Antiquarian Book Fair, where original editions can fetch hundreds of thousands of dollars; to the Strand and Argosy bookstores, still standing against all odds; to the beautifully crammed apartments of collectors and buyers. The film, executive produced by Parker Posey, features a range of commentators, including Fran Lebowitz, Susan Orlean, Gay Talese, and a community of dedicated book dealers and collectors who strongly believe in the wonder of the object and what it holds within. 
"Inviting viewers into a fascinating world of bibliophiles, The Booksellers is a documentary that's easy to curl up and get lost in." - Certified Fresh on Rotten Tomatoes
Director: D.W. Young
English | 2019 | Documentary | 99 minutes | NR 
$9.99 for a sevem day rental period.
With each screening of The Booksellers purchased, the Lincoln Theatre will receive 50% of the ticket price and the distributors and filmmakers receive the other 50%. Thank you for supporting the Lincoln!.
HOW TO WATCH: TELEVISION (via the the downloaded APPLE TV or ANDROID app, or CHROMECAST) MOBILE DEVICE (iPhone, iPad, Android) | COMPUTER (by clicking on the link below).
For more information on how the rental works:
Click the button above, or follow THIS LINK to purchase entry to our digital screening room for The Booksellers offered on Greenwich Entertainment's secure virtual screening room created just for patrons of the Lincoln Theatre.
Create an account – it's very easy! – and complete your purchase.
Watch as much as you like for seven days!
For any questions regarding streaming, device, connection, or payment issues, you will need to reference these links and reach out directly Vimeo here.
For non-streaming questions, please feel free to reach out to us at admin@lincolntheatre.org