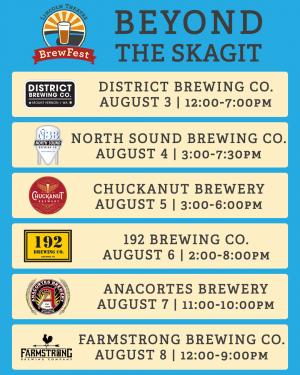 Monday, Aug 3,

12:00 pm

to

7:00 pm
Tuesday, Aug 4,

3:00 pm

to

7:30 pm
Wednesday, Aug 5,

3:00 pm

to

6:00 pm
Thursday, Aug 6,

2:00 pm

to

8:00 pm
Friday, Aug 7,

11:00 am

to

10:00 pm
Saturday, Aug 8,

12:00 pm

to

9:00 pm
Due to the current pandemic, the Lincoln Theatre's 18th annual BrewFest on the Skagit cannot be held on the Skagit Riverwalk this year. Luckily for us, we have some incredible Brewers who have signed on to take BrewFest BEYOND the Skagit!
We are proud to announce BrewFest Beyond The Skagit - a traveling Beer Festival supporting the historic Lincoln Theatre!
August 3-8 breweries from Skagit to Whatcom will be hosting their own BrewFest, with a portion of sales from the day supporting our great theatre. Each brewer is offering something different, so check-in when you arrive to see how your money best supports the Lincoln Theatre that day.
THANK YOU to our BrewFest fans and our wonderful brewers for helping us find a way to support our theatre even without our great party on the Skagit River. We hope to bring BrewFest back to the Skagit in 2021 for our 19th year!
Please drink responsibly, follow Washington's Safe Start Plan regarding gatherings in Phase 2, and WEAR A MASK when not imbibing.​
The BrewFest Beyond the Skagit schedule is as follows:
August 3 - District Brewing
August 4 - North Sound Brewing 
August 5 - Chuckanut Brewing (South Nut)
August 6 - 192 Brewing 
August 7 - Anacortes Brewery/Rockfish Grill/Anacortes Brewing
August 8 - Farmstrong Brewing 
Video from a normal BrewFest on the Skagit: