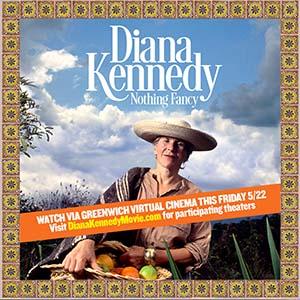 Friday, May 22 (All day)

to

Thursday, Jun 11 (All day)
VIRTUAL CINEMA OFFERING
OPENS FRIDAY MAY 22

Nothing Fancy: Diana Kennedy is a feature-length documentary offering a candid look into the world of 92-year-old British chef and cookbook author Diana Kennedy, widely regarded as the world's authority on Mexican cuisine. Standing barely five feet tall with a still-thick English accent, Diana is a formidable critic of any individual who doesn't agree with her subjective views of Mexican culinary traditions, or, God forbid, doesn't recycle.
Diana is a force of nature, living entirely in harmony with it. She designed and built her ecologically sustainable property outside Zitácuaro, Michoacán in 1974, where she continues to cook, recycle rainwater, use solar power, and grow her own vegetables, coffee, and corn. She is a staunch environmentalist, maintaining a collection of plastic bags she's reused for a decade.
The author of eight cookbooks; Diana was decorated with an Order of the Aztec Eagle from the Mexican government in 1982; received a Member of the Order of the British Empire for strengthening cultural ties between Mexico and the UK in 2002; and is a 2014 inductee into the James Beard Cookbook Hall of Fame.
100% on Rotten Tomatoes
"Kennedy... proves endlessly good company, curious, compassionate and beloved in the country where she has spent the bulk of her adult life." - Guy Lodge, Variety
Director: Elizabeth Carroll
English | 2020 | Documentary | 81 minutes | NR 
$9.99 for a sevem day rental period.
With each screening of Diana Kennedy: Nothing fancy purchased, the Lincoln Theatre will receive 50% of the ticket price and the distributors and filmmakers receive the other 50%. Thank you for supporting the Lincoln!.
HOW TO WATCH: TELEVISION (via the the downloaded APPLE TV or ANDROID app, or CHROMECAST) MOBILE DEVICE (iPhone, iPad, Android) | COMPUTER (by clicking on the link below).
For more information on how the rental works:
Click the button above, or follow THIS LINK to purchase entry to our digital screening room for Diana Kennedy: Nothing Fancy offered on Greenwich Entertainment's secure virtual screening room created just for patrons of the Lincoln Theatre.
Create an account – it's very easy! – and complete your purchase.
Watch as much as you like for seven days!
For any questions regarding streaming, device, connection, or payment issues, you will need to reference these links and reach out directly Vimeo here.
For non-streaming questions, please feel free to reach out to us at admin@lincolntheatre.org