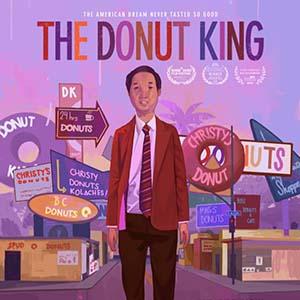 Friday, Nov 6 (All day)

to

Thursday, Jan 7 (All day)
QUARANTINE CINEMA OFFERING
AVAILABLE STARTING NOVEMBER 6

THE AMERICAN DREAM NEVER TASTED SO GOOD
Ted's story is one of fate, love, survival, hard knocks, and redemption. It's the rags to riches story of a refugee escaping Cambodia, arriving in America in 1975 and building an unlikely multi-million-dollar empire baking America's favorite pastry, the donut. Ted sponsored hundreds of visas for incoming refugees and helped them get on their feet teaching them the ways of the donut business. By 1979 he was living the American Dream. But, in life, great rise can come with great falls.
"Not only is it a fascinating portrait of this particular Cambodian refugee, Ted Ngoy, but it also is about the culture of doughnut shops in L.A., which are so iconic."​  - Claudia Puig, FilmWeek
Director: Alice Gu
USA | English & Chinese | 2020 | Documentary | 90 minutes | NR 
Virtual Tickets: $9.99. 50% of the proceeds support the Lincoln Theatre!
HOW TO WATCH: TELEVISION (via APPLE TV, ROKU, CHROMECAST, or downloaded app on your smart TV) | MOBILE DEVICE (iPhone, iPad, Android) | COMPUTER (by clicking on the streaming link).
For more information on how the rental works:
Click the BUY TICKETS button above to purchase entry to our digital screening room.
Create an account – it's very easy! – and complete your purchase. 
For general help go to our Streaming Information Page HERE.
For any questions regarding streaming, device, connection, or payment issues, reach out directly streaming platform HERE.
For other questions, please feel free to reach out to us at admin@lincolntheatre.org