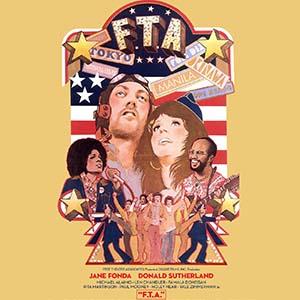 Friday, Mar 12, 12:00 pm

to

Thursday, Apr 8, 11:59 pm
QUARANTINE CINEMA OFFERING
AVAILABLE STARTING MARCH 12

In 1971, at the height of the Vietnam War, Jane Fonda and Donald Sutherland toured an anti-war comedy show across Southeast Asia. It was directly engaged with and inspired by veterans against the war and, naturally, it upset U.S. military higher-ups. The F.T.A. tour was highly controversial and was a huge success among stationed soldiers. In spite of positive reviews and business, the film version was quickly taken out of circulation due to political pressures and has been difficult to see for decades. F.T.A. has now been fully restored in 4K by IndieCollect.
"Fonda brings down the house."
- Variety
"Roaring response...standing room only."
- Rolling Stone
"F.T.A. has enormous contemporary resonance."
- AV Club
"...a document of disarming anti-authoritarian nerve...infectious and energizing"
- Michael Atkinson, IFC.com
Director: Francine Parker
Cast: Jane Fonda, Donald Sutherland, Pamel Donegan, Holly Near, Paul Moony, Peter Boyle and many more.
USA | English | 1972 | Documentary, Comedy, Music | 97 minutes | R 
Virtual Tickets: $10.00. 50% of the proceeds support the Lincoln Theatre! Renting a virtual film through the Lincoln is a great opportunity for patrons to show their support for us during quarantine. Many of the virtural films are available to send as gifts.
HOW TO WATCH: TELEVISION (via APPLE TV, ROKU, CHROMECAST, or downloaded app on your smart TV) | MOBILE DEVICE (iPhone, iPad, Android) | COMPUTER (by clicking on the streaming link).
For more information on how the rental works:
Click the BUY TICKETS button above to purchase entry to our digital screening room.
Create an account – it's very easy! – and complete your purchase. 
For general help go to our Streaming Information Page HERE.
For any questions regarding streaming, device, connection, or payment issues, reach out directly streaming platform HERE.
For other questions, please feel free to reach out to us at admin@lincolntheatre.org