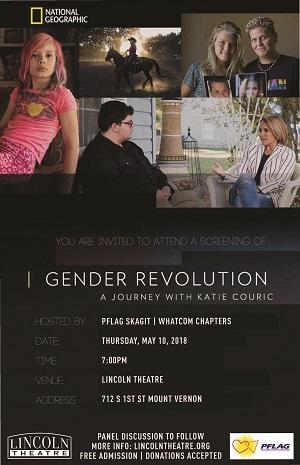 Thursday, May 10, 7:00 pm
Running Time: 120 minutes
In this two-hour documentary, Katie Couric sets out to explore the rapidly evolving complexities of gender identity.
Gender and sexuality are fluid. In 2016, transgender issues are altering the nature of day-to-day interactions. What do you do when your 7-year-old son announces that he wants to be a girl? Or your husband of 30 years announces that he wants to be a woman? How do college students at All Girl colleges react when "he" becomes a "she." 
Newscasting legend Katie Couric takes us on a unique journey - from birth to death - to discover the dynamics of gender in 2016.
"Absorbing, empathetic documentary dives deep into gender."  -  Joyce Slaton, Common Sense Media
A panel discussion will follow.  
This is a free event presented by PFlag Skagit | Whatcom Chapters with help from the Lincoln Theatre. Donations Accepted.