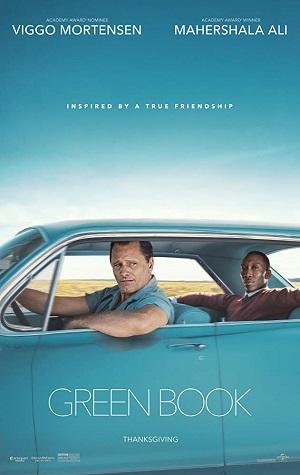 Running Time: 130 minutes
Academy Award Winner: Best Picture
When Tony Lip, a bouncer from an Italian-American neighborhood in the Bronx, is hired to drive Dr. Don Shirley , a world-class Black pianist, on a concert tour from Manhattan to the Deep South, they must rely on "The Green Book" to guide them to the few establishments that were then safe for African-Americans. Confronted with racism, danger-as well as unexpected humanity and humor-they are forced to set aside differences to survive and thrive on the journey of a lifetime.
Director: Peter Farrelly
Cast: Viggo Mortensen, Mahershala Ali, Linda Cardellini, Don Stark, Sevbastian Maniscalco, and Dimiter D. Marinov
What the critics are saying:
"Green Book takes audiences on a surprisingly smooth ride through potentially bumpy subject matter, fueled by Peter Farrelly's deft touch and a pair of well-matched leads." - Certified Fresh on Rotten Tomatoes
"Call this actors' duet sentimental and simplistic at your own peril. Green Book may well move you, possibly to tears, at the thought of real social change and kindness (at a time when we need it badly)." - Joshua Rothkopf, Time Out
"It's one thing to depict racial inequality by presenting facts, but it's truly a moving experience when it's told in such a personal level and see how hearts are being transformed by personal relationships." - Ruth Maramis, FlixChatter Film Blog
Film Prices:
Lincoln Theatre Members get a $2 discount on the following prices:
General: $10.50
Seniors, Students and Active Military: $9.50
Children 12 and under: $8.00
Sunday Bargain Prices:
General: $9.00
Children 12 and under: $7.50
Add $2.00 to the above prices for 3D screenings
All prices include a $1.50 Preservation Fee that goes directly into our capital account for preservation of the Lincoln Theatre and its programs. 
 
Members have benefits: Click here for details.