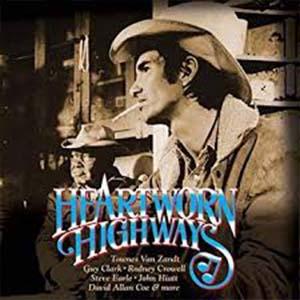 Friday, Mar 12 (All day)

to

Thursday, Apr 8 (All day)
QUARANTINE CINEMA OFFERING
AVAILABLE STARTING MARCH 12

Sometimes, a documentary maker is present at precisely the right moment to capture lightning in a bottle. It happened with essential punk doc The Decline of Western Civilization, it happened with Dylan's Don't Look Back and Chet Baker's Let's Get Lost, and it happened with 1976's Heartworn Highways.
The iconic performance documentary saw filmmaker James Szalapski travel to Texas and Tennessee to capture the radical country artists reclaiming the genre via an appreciation for its heritage in folk and bluegrass and a rejection of the mainstream Nashville machine. Townes Van Zandt, Guy Clark, Steve Young, David Allan Coe, Steve Earle and many others appeared on both screen and soundtrack, where musical highlights include Clark's brilliant "Desperados Waiting For A Train," Young's stirring "Alabama Highways" and Van Zandt's emotional "Waiting Around To Die."
The hard living – and hard partying – lifestyles of outlaw country's figureheads are played out on screen as we visit Van Zandt's Austin trailer, see Coe play in Tennessee State Prison, join the gang in Nashville's notorious Wig Wam Tavern and witness a liquor-fueled Christmas at Clark's house. No wonder the film's original tagline read: "The best music and the best whiskey come from the same part of the country".
Outside of a couple festival screenings, the movie remained unreleased for five years after its completion, finally hitting screens in 1981 and finding a cult audience ever since.
"Musically, it's almost impossible to pick highlights but Guy Clark's "That Old Time Feeling" is a husky delight and when Seymour Washington, a friend of Van Zandt's (born 1896!) hears him sing "Waitin' 'Round To Die" he can't prevent teardrops from rolling down his cheeks; neither will you."
– Record Collector
Director: James Szalapski
Cast: Peggy Brooks, Guy Clark, David Allan Coe, Rodney Crowell, Charlie Daniels, Steve Earle, Townes van Zandt, and many more.
USA | English | 1976 | Documentary, Biography, Music | 92 minutes | NR 
Virtual Tickets: $10.00. 50% of the proceeds support the Lincoln Theatre! Renting a virtual film through the Lincoln is a great opportunity for patrons to show their support for us during quarantine. Many of the virtural films are available to send as gifts.
HOW TO WATCH: TELEVISION (via APPLE TV, ROKU, CHROMECAST, or downloaded app on your smart TV) | MOBILE DEVICE (iPhone, iPad, Android) | COMPUTER (by clicking on the streaming link).
For more information on how the rental works:
Click the BUY TICKETS button above to purchase entry to our digital screening room.
Create an account – it's very easy! – and complete your purchase. 
For general help go to our Streaming Information Page HERE.
For any questions regarding streaming, device, connection, or payment issues, reach out directly streaming platform HERE.
For other questions, please feel free to reach out to us at admin@lincolntheatre.org