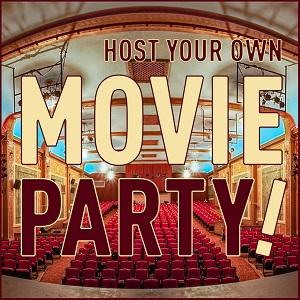 RENT THE LINCOLN!
You pick the movie, you make the guest list, we'll show you a good time. Movie Party rentals are your chance to enjoy a private screening at The Lincoln, Skagit County's Historic Theatre.
As we navigate this ongoing pandemic, current restrictions allow for up to 6 people from the same household to enjoy a theatrical movie experience - at rates far less than our usual private rental rates. Here is the directive from the Governor for the Healthy Washington - Road to Recovery Plan: PRIVATE RENTALS/TOURS FOR INDIVIDUAL HOUSEHOLDS OF NO MORE THAN 6 PEOPLE PERMITTED. 
Rates are $100 + staff time (usually 3 hours @ $25 p/h for a projectionist) for Lincoln Theatre Members and $150 + staff time for non-members.
Enjoy a private screening with a film of your choice—including new release films! You can choose from our list of over 2500 titles or bring your own DVD or Blu-ray.
The theater will be open for you 30 minutes prior to the film, giving you plenty of time to order your favorite snacks and drinks from the concessions stand and settle in for your private screening. Wurlitzer pre-show available upon request.
Click here for a full run-down of films available from our library for movie parties,
For more info contact roger@lincolntheatre.org.