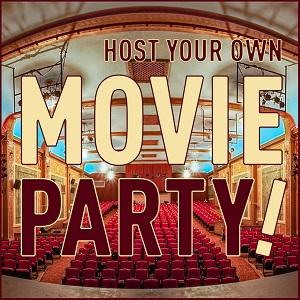 RENT THE LINCOLN!
You pick the movie, you make the guest list, we'll show you a good time. Movie Party rentals are your chance to enjoy a private screening at The Lincoln, Skagit County's Historic Theatre.
Basic rates are $200 for Lincoln Theatre Members and $250 for non-members for groups up to 12. 
Click HERE for a booking request.
Enjoy a private screening with a film of your choice—including new release films! You can choose from our list of over 200 Blu-ray titles or supply your own.
The theater will be open for you 30 minutes prior to the film, giving you plenty of time to order your favorite snacks and drinks from the concessions stand and settle in for your private screening. Wurlitzer pre-show available upon request.
Click here for a full run-down of films available from our blu-ray library for movie parties, Blu-rays offer the best quality and there is a $25 media charge if you'd like us to supply something that is not on the list.
We have the following titles prepped and ready-to-go at short notice:
1917
A League of Their Own
Breaking Away
Cheaper by the Dozen (1950)
Cold Mountain
The Dark Knight Rises
Ferris Bueller's Day Off
Fifth Element
Harry Potter and the Sorcerer's Stone
The Hobbit: An Unexpected Journey (Extended Ed.)
Independence Day
Indiana Jones and the Raiders of the Lost Ark
Into the Woods
King Kong (1933)
LA LA Land (2016)
Little Women (2019)
Mary Poppins (1964)
Mulan (1998, animated)
Mulan (2020, live action)
Night of the Living Dead
Parasite (Color)
Parasite (Black & White)
Sunrise (1:34:21)
Sweded Film Festival 2020
Tenet
The Graduate
Titanic
Wizard of Oz
All films not prepped and ready-to-go will need two-week lead time.
For more info contact roger@lincolntheatre.org.