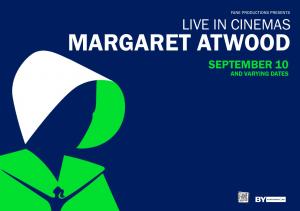 Running Time: approximately 110 minutes
Fane Productions presents Margaret Atwood live on stage and in cinemas on Tuesday, September 10th in celebration of the global publication of The Testaments, Atwood's highly anticipated sequel to her seminal work, The Handmaid's Tale. 
Margaret Atwood: Live in Cinemas will be broadcast to over 1,000 cinemas across the globe, including cinemas throughout the US, UK and Canada, with delayed screenings planned in Australia and New Zealand.  Filmed live from the National Theatre in London, BBC journalist and New York Times best-selling author Samira Ahmed will interview Atwood about her remarkable career, her diverse range of works and why she has returned to her handmaid story, 34 years later.  The event, presented in partnership with Equality Now, will include a number of special guests, including Lily James; the star of next week's film Yesterday,  two-time Oscar nominee Sally Hawkins (The Shape of Water) and Ann Dowd (Hulu's TV adaptaion of The Handmaid's Tale) shall also be reading selected passages from The Testaments. .
Margaret Atwood says: "I am delighted that the launch of The Testaments will take place not only in London on September 10th, but also by live-streaming to over 1000 cinemas around the world. I can't be in all the places at once in my analogue body, but I look forward to being with so many readers via the big screen."
With exclusive readings from the new book by special guests, this will be an unmissable and intimate event with Atwood, spotlighting her signature insight, humour and intellect.
Women's rights, female empowerment and resistance are at the core of Atwood's story and the events are presented in partnership with Equality Now.
Advance tickets: $18 adults, $16 seniors, $14 students and children + applicable fees. Lincoln Theatre Members receive $2 off.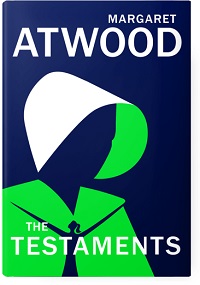 Village Books will be at the Lincoln this evening so you can purchase a copy of The Testaments on the day of its release. It will also be available to pre-order with your ticket order for a discounted price of $25 + tax (retails at $28.95.)