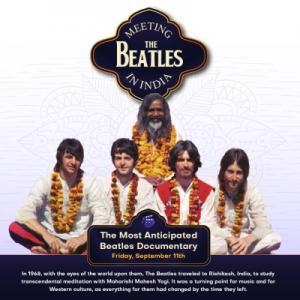 Friday, Oct 16 (All day)

to

Thursday, Jan 7 (All day)
QUARANTINE CINEMA OFFERING
AVAILABLE STARTING October 16

In 1968, with the eyes of the world upon them, The Beatles traveled to Rishikesh, India, to study transcendental meditation with Maharishi Mahesh Yogi. In one of the most anticipated Beatles documentaries, Filmmaker Paul Saltzman, retraces his journey of 50 years ago when he spent a life-changing time with John, Paul, George and Ringo. Fifty years later he reveals previously unknown details of this pivotal moment in the Beatles' career and the inner workings of the masterful White Album.
Starting with "Bungalow Bill" in Hawaii; connects with David Lynch about his own inner journey; as well as preeminent Beatles historian, Mark Lewisohn; Academy Award nominated film composer, Laurence Rosenthal, and Pattie and Jenny Boyd. And much of this is due to Saltzman's own daughter, Devyani, reminding him that he had put away and forgotten these remarkably intimate photographs of that time in 1968.
MEETING THE BEATLES IN INDIA includes a Special Pre-recored Q&A with the filmmaker and other surprise guests.
"It's a lovely look back - happy memories are revived and wrapped in garlands, set to a sitar-and-tabla soundtrack." - Brad Wheeler, Globe and Mail
Director: Paul Saltzman
United Kingdom | English | 2020 | Documentary, Music | 85 minutes | NR 
Virtual Tickets: $9.99 50% of the proceeds support the Lincoln Theatre!
HOW TO WATCH: TELEVISION (via APPLE TV, ROKU, CHROMECAST, or downloaded app on your smart TV) | MOBILE DEVICE (iPhone, iPad, Android) | COMPUTER (by clicking on the streaming link).
For more information on how the rental works:
Click the BUY TICKETS button above to purchase entry to our digital screening room.
Create an account – it's very easy! – and complete your purchase. 
For general help go to our Streaming Information Page HERE.
For any questions regarding streaming, device, connection, or payment issues, reach out directly streaming platform HERE.
For other questions, please feel free to reach out to us at admin@lincolntheatre.org