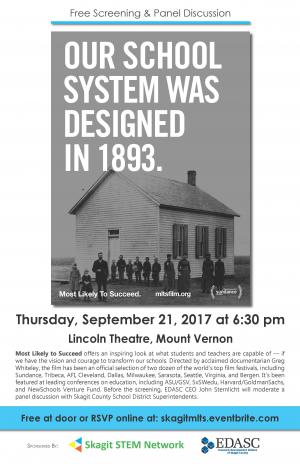 Thursday, Sep 21, 6:30 pm
Skagit STEM presents a Free Screening and Panel Discussion.
Most Likely to Succeed offers an inspiring look at what students and teachers are capable of — if we have the vision and courage to transform our schools. Directed by acclaimed documentarian Greg Whiteley, the film has been an official selection of two dozen of the world's top film festivals, including Sundance, Tribeca, AFI, Cleveland, Dallas, Milwaukee, Sarasota, Seattle, Virginia, and Bergen. It's been featured at leading conferences on education, including ASU/GSV, SxSWedu, Harvard/GoldmanSachs, and NewSchools Venture Fund. Before the screening, EDASC CEO John Sternlicht will moderate a panel discussion with Skagit County School District Superintendents.
Admission is Free.