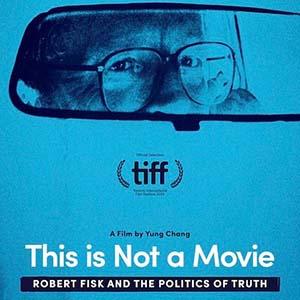 Friday, Oct 16 (All day)

to

Thursday, Jan 7 (All day)
QUARANTINE CINEMA OFFERING
AVAILABLE STARTING OCTOBER 16

For more than 40 years, journalist Robert Fisk has reported on some of the most violent and divisive conflicts in the world.
Yung Chang's This Is Not a Movie captures Fisk in action—feet on the ground, notebook in hand, as he travels into landscapes devastated by war, ferreting out the facts and firing reports back home to reach an audience of millions.
The process of translating raw experience into incisive and passionate dispatches requires the determination to see things first-hand and the tenacity to say what others won't. In his relentless pursuit of the facts, Fisk has attracted his share of controversy. But in spite of the danger, he has continued to cover stories as they unfold, talking directly to the people involved.
In an era of fake news, when journalists are dubbed "the enemies of the people," Fisk's resolve to document reality has become an obsessive war to speak the truth.
"[The film] provides a comprehensive portrait of a man who has become essential reading."​  - Hollywood Reporter
Director: Yung Chang
Canada, Germany | English & Arabic with English Subtitles | 2019 | Drama | 106 minutes | NR 
Virtual Tickets: $10.00. 50% of the proceeds support the Lincoln Theatre!
HOW TO WATCH: TELEVISION (via APPLE TV, ROKU, CHROMECAST, or downloaded app on your smart TV) | MOBILE DEVICE (iPhone, iPad, Android) | COMPUTER (by clicking on the streaming link).
For more information on how the rental works:
Click the BUY TICKETS button above to purchase entry to our digital screening room.
Create an account – it's very easy! – and complete your purchase. 
For general help go to our Streaming Information Page HERE.
For any questions regarding streaming, device, connection, or payment issues, reach out directly streaming platform HERE.
For other questions, please feel free to reach out to us at admin@lincolntheatre.org