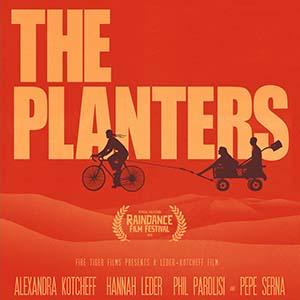 Friday, Oct 16 (All day)

to

Thursday, Jan 7 (All day)
QUARANTINE CINEMA OFFERING
AVAILABLE STARTING OCTOBER 16

Shot entirely without a crew, Alexandra Kotcheff and Hannah Leder's debut feature is a monument to friendship and DIY filmmaking. Pre-COVID, the co-directors and longtime pals remained in isolation during a 120-day production with only select trips for provisions or to the pic's desert locations—shot in and around Palm Springs, Joshua Tree, L.A., New Mexico, and more. Kotcheff and Leder handled their own cinematography, production design, costumes, etc. and the result is a film sprouting with originality and humor we all need these days as we continue to face our own isolation. The Planters opens in Palm Springs for a special drive-in presentation on 9/28 before opening in L.A. on 10/9, and a national virtual & theatrical expansion on 10/16. 
"A REMARKABLY UNIQUE ACCOMPLISHMENT."​  - Hollywood Reporter
"A SLICE OF DELIGHTFULLY IDIOSYNCRATIC COMEDIC GENIUS."-  Film Threat
Director: Alexandra Kotcheff /Hannah Leder
USA | English | 2020 | Comedy| 88 minutes | NR 
Tickets: $18 for a 48-hour rental period.
HOW TO WATCH: TELEVISION (via APPLE TV, ROKU, CHROMECAST, or downloaded app on your smart TV) | MOBILE DEVICE (iPhone, iPad, Android) | COMPUTER (by clicking on the streaming link).
For more information on how the rental works:
Click the BUY TICKETS button above to purchase entry to our digital screening room.
Create an account – it's very easy! – and complete your purchase. 
For general help go to our Streaming Information Page HERE.
For any questions regarding streaming, device, connection, or payment issues, reach out directly streaming platform HERE.
For other questions, please feel free to reach out to us at admin@lincolntheatre.org