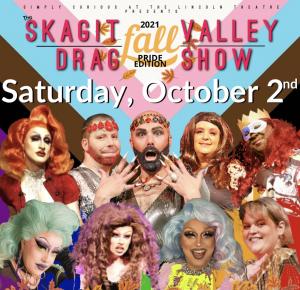 Simply Curious Enterprises presents
The Skagit Valley Drag Show - Fall Pride Edition
For 9 years, Skagit Valley drag has been a place for creativity, inclusiveness, entertainment, support, education, and love! Through the drag events we are able to help the community be more accepting, accountable, and to promote groups that supply the resources and put in the effort to create and maintain safe spaces in our communities.
We have two annual shows, one in the Spring and one in the Fall. We work to bring other events to Skagit and surrounding counties by collaborating with other like minded individuals and groups. We are proud to sponsor the Anacortes Pride group this year!
You can check us out on Facebook under The Valley Drag-ans. Each of you is an integral part of our success and our ability to involve others through creating safe spaces. We thank you for you're continued support. We encourage you to be truly you and show up for others. We are stronger together. We are love. 
Make sure and check us out in our temporary retail spot at 325 E. Kincaid St. in downtown Mount Vernon at The Simply Curious Pop-Up this September and October. This is another way for us to build resources to continue our adventure of bringing support and love through entertainment! We love y'all!
#SkagitValleyDrag
#TheValleyDragans
#SkagitDrag
#SimplyCurious 
Tickets: $13 General, $10 student/senior
*a portion of these proceeds will benefit Anacortes Pride.