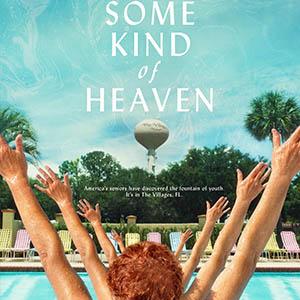 Friday, Jan 15 (All day)

to

Wednesday, Mar 10 (All day)
QUARANTINE CINEMA OFFERING
AVAILABLE STARTING January 15

With SOME KIND OF HEAVEN, first-time feature director Lance Oppenheim cracks the manicured facade of The Villages, America's largest retirement community – a massive, self-contained utopia located in Central Florida. Behind the gates of this palm tree-lined fantasyland, SOME KIND OF HEAVEN invests in the dreams and desires of a small group of Villages residents – and one interloper – who are unable to find happiness within the community's pre-packaged paradise. With strikingly composed cinematography, this candy-colored documentary offers a tender and surreal look at the never-ending quest for finding meaning and love in life's final act.
Customers should also stick around after the film for a pre-recorded discussion with director Lance Oppenheim and several subjects from the film, exclusive to virtual cinema.
"A tragicomic ... combination of The Stepford Wives and an Errol Morris movie, it's one of the best documentaries you'll see this year."​ - Cameron Meier, Orlando Weekly
Director: Lance Oppenheim
USA | English  | 2020 | Documentary | 83 minutes | NR 
Virtual Tickets: $12.00. 50% of the proceeds support the Lincoln Theatre!
Renting a virtual film through the Lincoln is a great opportunity for patrons to show their support for us during quarantine. Many of the virtural films are available to send as gifts.
HOW TO WATCH: TELEVISION (via APPLE TV, ROKU, CHROMECAST, or downloaded app on your smart TV) | MOBILE DEVICE (iPhone, iPad, Android) | COMPUTER (by clicking on the streaming link).
For more information on how the rental works:
Click the BUY TICKETS button above to purchase entry to our digital screening room.
Create an account – it's very easy! – and complete your purchase. 
For general help go to our Streaming Information Page HERE.
For any questions regarding streaming, device, connection, or payment issues, reach out directly streaming platform HERE.
For other questions, please feel free to reach out to us at admin@lincolntheatre.org