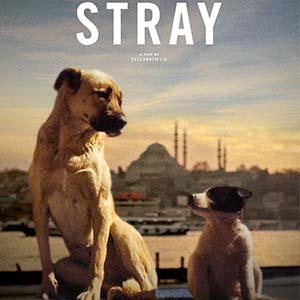 Friday, Mar 5 (All day)

to

Thursday, Mar 25 (All day)
QUARANTINE CINEMA OFFERING
AVAILABLE STARTING MARCH 5

Through the eyes of three stray dogs wandering the streets of Istanbul, STRAY explores what it means to live as a being without status or security. As they search for food and shelter, Zeytin, Nazar and Kartal embark on inconspicuous journeys through Turkish society that allow us an unvarnished portrait of human life — and their own canine culture. Zeytin, fiercely independent, embarks on solitary adventures through the city at night; Nazar, nurturing and protective, easily befriends the humans around her; while Kartal, a shy puppy living on the outskirts of a construction site, finds refuge with the security guards who care for her. The disparate lives of Zeytin, Nazar and Kartal intersect when they each form intimate bonds with a group of young Syrians who share the streets with them. Whether they lead us into bustling streets or decrepit ruins, the gaze of these strays act as windows into the overlooked corners of society: women in loveless marriages, protesters without arms, refugees without sanctuary. The film is a critical observation of human civilization through the unfamiliar gaze of dogs and a sensory voyage into new ways of seeing.
Director: Elizabeth Lo
Cast: Zeytin, Nazar, Kartal
100% Ceritfied Fresh on Rotten Tomatoes 
"A howling success."​ - Sheri Linden, Hollywood Reporter
"Lo inspects both the faultlines and fringes of the Turkish society and ponders profound philosophical questions concerning humanity." - Tomris Laffly, Variety
"It is an immersive, all-encompassing sensory experience and Lo's ground-level, intimate camerawork (she takes production and editing credits as well) is extremely accomplished." - Matthew Anderson, CineVue
"Virtuosic." - Variety
"Profound." - IndieWire
"Beautiful." - Screen International
"Stirring." - The Hollywood Reporter
USA | Canine/Turkish w/Enlgish Subtitles | 2021 | Documentary | 72 minutes | NR 
Virtual Tickets: $12.00. 50% of the proceeds support the Lincoln Theatre!
Renting a virtual film through the Lincoln is a great opportunity for patrons to show their support for us during quarantine. Many of the virtural films are available to send as gifts.
HOW TO WATCH: TELEVISION (via APPLE TV, ROKU, CHROMECAST, or downloaded app on your smart TV) | MOBILE DEVICE (iPhone, iPad, Android) | COMPUTER (by clicking on the streaming link).
For more information on how the rental works:
Click the BUY TICKETS button above to purchase entry to our digital screening room.
Create an account – it's very easy! – and complete your purchase. 
For general help go to our Streaming Information Page HERE.
For any questions regarding streaming, device, connection, or payment issues, reach out directly streaming platform HERE.
For other questions, please feel free to reach out to us at admin@lincolntheatre.org