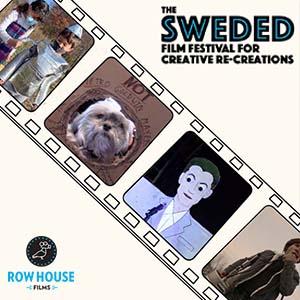 Friday, Feb 12 (All day)

to

Thursday, Mar 25 (All day)

AVAILABLE VIRTUALLY IN OUR QUARANTINE CINEMA STARTING FEBRUARY 12
Virtual Tickets: $3.99.
Row House Films presents
Sweded Film Festival - Worldwide Audiences
Short, Cheap & Out of Control: 'The Sweded Film Festival for Creative Re-Creations' Lets Movie Fans Produce Their Own Versions of Favorite Flicks
Join us for the only festival of classic movies, re-made by amateurs who replace A-list stars and CGI with whatever is laying around their houses and a ton of creativity. It's odd, unexpected, and a whole lot of fun.
No Country For Old Men
Ferris Beuller's Day Off
The Lighthouse
Gone Girl
Air Force One
The Wizard Of Oz
                    …and More!
THE FESTIVAL INCLUDES A SWEDED REMAKE OF 'START MAKING SENSE' FROM THE LINCOLN THEATRE'S STAFF!
It's time for movie lovers to take matters into their own hands: With many movie theaters still closed and few new releases, Rowhouse Online is introducing The Sweded Film Festival for Creative Re-Creations, a feature-length compilation of homegrown "Sweded" films will premiere February 12 in virtual cinemas and, where possible, select cinemas nationwide.  Whether they act like Lawrence of Arabia in a sandbox, spit up some split-pea soup from their own bedrooms, or make Peter Pan fly using kitchen utensils, first-time filmmakers and pros alike can make a "Sweded" film and have moviegoers nationwide marvel at their ingenuity and pure, raw humor.
This year's festival is zero budget, amateur, homemade, zany, creative, weird and often downrigh thilarious: a dozen "Sweded" versions of favorite films come together in The Sweded Film Festival for Creative Re-Creations. From mega-blockbusters to concertfilms, The Sweded Film Festival for Creative Re-Creations offers fan-made, five-minute versions of Die Hard, No Country for Old Men, Ferris Bueller's Day Off, The Lighthouse even (the Lincoln's version of) Stop Making Sense, among others. The Sweded Film Festival for Creative Re Creations showcases the passion, humor, creativity and incredible ingenuity of film fans nationwide who won't be deterred by a pandemic...and can't stop loving the movies.
"Sweded" films have nothing to do with Sweden and everything to do with Michel Gondry's 2008 film Be Kind, Rewind, in which video store employees ruin an entire store's worth of videos and cover their mistake by making hilarious and bizarre short remakes of the actual films. That's the inspiration for The Sweded Film Festival for Creative Re-Creations.
"Movie lovers have spent all spring and summer watching and re-watching their favorite movies and yearning for a creative outlet, so 2020 is the perfect year to bring Sweded films to a national audience" said Brian Mendelssohn, owner of Pittsburgh's Row House Cinema, where the idea for The Sweded Film Festival for Creative Re-Creations began. "We're all feeling off-kilter and weird these days, and that's what Sweded films are all about. We can't wait to see what film fans across the country have to show us – let's seem 'em short, cheap and out of control!"
USA | English | 2021 | Short Films | 96 minutes | NR
100% of your ticket purchase directly supports independent theaters and filmmaking. Thank You! 
Virtual Tickets: $3.99. 50% of the proceeds support the Lincoln Theatre! Renting a virtual film through the Lincoln is a great opportunity for patrons to show their support for us during quarantine. Many of the virtural films are available to send as gifts.
In-Theatre Screenings $12 General; $10 Members. Sunday Bargain Screening $10 and $8. 
HOW TO WATCH: TELEVISION (via APPLE TV, ROKU, CHROMECAST, or downloaded app on your smart TV) | MOBILE DEVICE (iPhone, iPad, Android) | COMPUTER (by clicking on the streaming link).
For more information on how the rental works:
Click the BUY TICKETS button above to purchase entry to our digital screening room.
Create an account – it's very easy! – and complete your purchase. 
For general help go to our Streaming Information Page HERE.
For any questions regarding streaming, device, connection, or payment issues, reach out directly streaming platform HERE.
For other questions, please feel free to reach out to us at admin@lincolntheatre.org