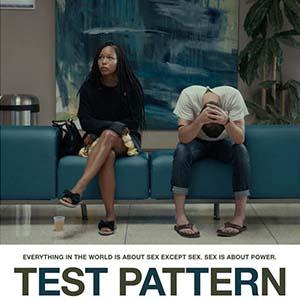 Friday, Mar 12 (All day)

to

Thursday, Apr 8 (All day)
QUARANTINE CINEMA OFFERING
AVAILABLE STARTING MARCH 12

Part psychological horror, part realist drama, this exhilarating debut feature from Shatara Michelle Ford is set against the backdrop of national discussions around inequitable health care and policing, the #MeToo movement, and race in America. Test Pattern follows an interracial couple whose relationship is put to the test after a Black woman is sexually assaulted and her white boyfriend drives her from hospital to hospital in search of a rape kit. Their story reveals the systemic injustices and social conditioning women face when navigating sex and consent within the American patriarchy. Winner of top prizes at the BlackStar and New Orleans Film Festivals, this gripping social thriller offers a unique exploration of institutional racism and sexism from a Black woman's point of view. Content warning: This film includes a depiction of sexual assault.
"A must-see gem. One of the year's first true discoveries."
– Kate Erbland, Indiewire
"Critic's Pick! Intelligent and engrossing… a quietly momentous first feature."
– Jessica Kiang, Variety
Director: Shatara Michelle Ford
Cast: Brittanyu S. Hall, Hill Brill, Gail Bean, Drew Fuller
USA | English  | 2021 | Drama, Thriller | 82 minutes | NR 
Virtual Tickets: $12.00. 50% of the proceeds support the Lincoln Theatre! Renting a virtual film through the Lincoln is a great opportunity for patrons to show their support for us during quarantine. Many of the virtural films are available to send as gifts.
HOW TO WATCH: TELEVISION (via APPLE TV, ROKU, CHROMECAST, or downloaded app on your smart TV) | MOBILE DEVICE (iPhone, iPad, Android) | COMPUTER (by clicking on the streaming link).
For more information on how the rental works:
Click the BUY TICKETS button above to purchase entry to our digital screening room.
Create an account – it's very easy! – and complete your purchase. 
For general help go to our Streaming Information Page HERE.
For any questions regarding streaming, device, connection, or payment issues, reach out directly streaming platform HERE.
For other questions, please feel free to reach out to us at admin@lincolntheatre.org