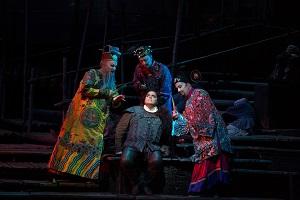 Saturday, Jan 30, 9:55 am
Swedish dramatic soprano Nina Stemme sings her first Met performances of the demanding title role of Puccini's Chinese ice princess, with Anita Hartig in her company role debut as the angelic slave girl Liù. Marco Berti sings Calàf, the suitor who risks his head for Turandot's hand, and Alexander Tsymbalyuk sings Timur. Paolo Carignani conducts Franco Zeffirelli's visually spectacular 1987 production.  
 
Conductor: Paolo Carignani
Production: Franco Zeffirelli
Set Designer: Franco Zeffirelli
Costume Designers: Anna Anni, Dada Saligeri
Lighting Designer: Gil Wechsler
Choreographer: Chiang Ching
 
Cast: Nina Stemme (Turandot), Anita Hartig (Liù), Marco Berti (Calàf),
Alexander Tsymbalyuk (Timur)
 
Stassya Pacheco returns for a pre-opera lecture prior to every Saturday live transmission, 30 minutes before the start time.  Also, Saturday operas offer the option of pre-ordering your lunch from Pacioni's Market.  Pre-order lunches are made up during the opera and ready for you to enjoy during the intermission. We will also have recorded encore screenings of all performances.
 
Tickets: $23 adults; $19 seniors; $16 students with $2 off for Lincoln Theatre Members plus applicable fees. Discounted Season Passes available!
 
Tickets go on sale to MET members on July 17th and to the general public July 24th.