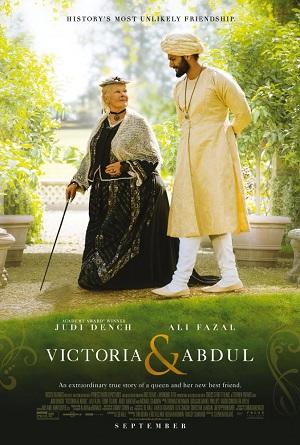 Running Time: 111 minutes
The extraordinary true story of an unexpected friendship in the later years of Queen Victoria's (Academy Award winner Judi Dench) remarkable rule. When Abdul Karim (Ali Fazal), a young clerk, travels from India to participate in the Queen's Golden Jubilee, he is surprised to find favor with the Queen herself. As the Queen questions the constrictions of her long-held position, the two forge an unlikely and devoted alliance with a loyalty to one another that her household and inner circle all attempt to destroy. As the friendship deepens, the Queen begins to see a changing world through new eyes and joyfully reclaims her humanity.
Directed By: Stephen Frears.
Cast: Judi Dench, Ali Fazal, Eddie Izzard, Adeel Akhtar, Time Pigott-Smith, and Olivia Williams.
What the critics are saying:
"Victoria & Abdul is worth seeing for Dench's magisterial performance and for Frears's light but sure directorial touch. Just don't mistake it for actual history."
Christopher Orr, The Atlantic
"Packaged tightly with endearing charm and soul-gratifying beauty, this British drama eschews all aristocratic stuffiness, favoring humor and earned poignancy."
Courtney Howard, Fresh Fiction
"This film - which is, we're told, "based on real events - mostly" - tells of how the elderly queen got her groove back, so to speak."
Moira MacDonald, Seattle Times
 
Film Prices:
Lincoln Theatre Members get a $2 discount on the following prices:
General: $10.50
Seniors, Students and Active Military: $9.50
Children 12 and under: $8.00
Sunday Bargain Prices:
General: $9.00
Children 12 and under: $7.50
Add $2.00 to the above prices for 3D screenings
All prices include a $1.50 Preservation Fee that goes directly into our capital account for preservation of the Lincoln Theatre and its programs. 
 
Members have benefits: Click here for details.
 
Film dates and times are subject to change and extended runs. Please check back here, or our phone message at 360.336.8955, day of show.