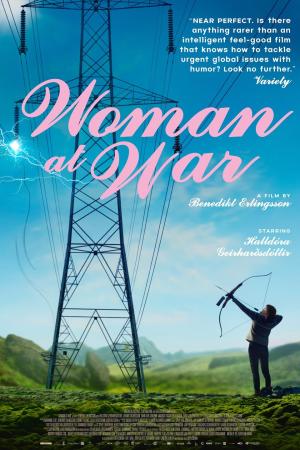 Saturday, Apr 27, 7:30 pm
Running Time: 101 minutes
Halla is a fifty-year-old independent woman. But behind the scenes of a quiet routine, she leads a double life as a passionate environmental activist. Known to others only by her alias "The Woman of the Mountain," Halla secretly wages a one-woman-war on the local aluminum industry. As Halla's actions grow bolder, from petty vandalism to outright industrial sabotage, she succeeds in pausing the negotiations between the Icelandic government and the corporation building a new aluminum smelter. But right as she begins planning her biggest and boldest operation yet, she receives an unexpected letter that changes everything. Her application to adopt a child has finally been accepted and there is a little girl waiting for her in Ukraine. As Halla prepares to abandon her role as saboteur and savior of the Highlands to fulfill her dream of becoming a mother, she decides to plot one final attack to deal the aluminum industry a crippling blow.
Director: Benedikt Erlingsson
Cast: Halldóra Geirharðsdóttir, Jóhann Sigurðarson, Juan Camillo Roman Estrada, and Jörundur Ragnarsson.
Language: Icelandic | Spanish | English | Ukrainian
What the critics are saying:
"Treating its timely themes with a deceptively light touch, Woman at War is easy to enjoy in the moment, yet its impact lingers long after the closing credits roll." - Certified Fresh, Rotten Tomatoes
"The droll absurdity of Nordic cinema acquires an eco-terrorism edge in Woman at War, a movie filled with dualities and one singular performance." - Peter Howell, Toronto Star
"An artful fable that examines what it really means to save the world, Benedikt Erlingsson's "Woman at War" is the rarest of things: A crowd-pleaser about climate change." - David Ehrlich, indieWire
Film Prices:
Lincoln Theatre Members get a $2 discount on the following prices:
General: $10.50
Seniors, Students and Active Military: $9.50
Children 12 and under: $8.00
Sunday Bargain Prices:
General: $9.00
Children 12 and under: $7.50
Add $2.00 to the above prices for 3D screenings
All prices include a $1.50 Preservation Fee that goes directly into our capital account for preservation of the Lincoln Theatre and its programs. 
 
Members have benefits: Click here for details.