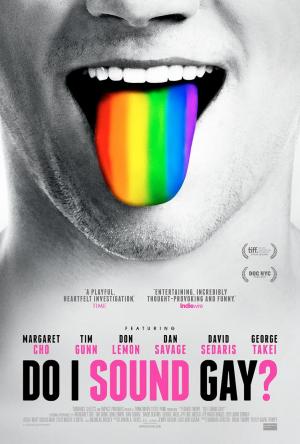 Saturday, Aug 29, 7:30 pm
Starring: Dan Savage, David Sedaris, David Thorpe, George Takei, Margaret Cho, Tim Gunn
 
Is there such a thing as a "gay voice"? Why do some people "sound gay" but not others? Why are gay voices a mainstay of pop culture—but also a trigger for anti-gay harassment? The feature documentary Do I Sound Gay? explores these questions and more and includes revealing interviews with Margaret Cho, Tim Gunn, Don Lemon, Dan Savage, David Sedaris and George Takei.
 
Wurlitzer Organists:
Nick Nicolai; Friday September 28th
Fred Beeks; Saturday September 29th
Glen Des Jardins Sunday Sep 30th
Fred Beeks Monday, September 31st
What the critics are saying:
 
Washington Post, Michael O'Sullivan
 
"Thorpe doesn't flinch from whatever awkward or controversial findings his subjects offer up, especially when they concern himself. The filmmaker's curiosity as a reporter is tempered by an unapologetically subjective perspective."
 
The A.V. Club, Keith Uhlich
 
"It's a serious topic, but the resulting documentary isn't an especially severe sit. Do I Sound Gay? is a briskly entertaining 77 minutes, and frequently as mouthy as its title."
 
Philadelphia Inquirer, Molly Eichel
 
"While Thorpe ostensibly explores the sibilant consonants and careful enunciation that characterize what we have come to think of as "sounding gay," his film is really about his identity."
 
The Dissolve, Noel Murray
 
"Do I Sound Gay? gets into the mysteries of homosexual attraction and eroticism, and suggests that if Thorpe wants the kind of long-term relationship that Takei, Sedaris, and Savage have, he'll have to get over his fetishization of the macho and learn to accept himself. That's a poignant, powerful conclusion, all from asking one question."
 
Variety, Andrew Barker
 
"Thorpe's documentary can sometimes seem a bit intimidated by the various cans of worms it pries open, but it's nonetheless a breezy, funny, often quite clever film more concerned with minor epiphanies than big answers."
 
Film Prices:
General: $10.00
Seniors, Students and Active Military: $9.00
Members: $8.00
Children 12 and under: $7.00
 
Sunday Bargain Prices:
General: $8.00
Members: $6.00
Children 12 and under: $5.00
 
Add $2.00 to the above prices for 3D screenings.
 
Your membership with the Lincoln Theatre saves you $2.00 per film ticket.
 
*All prices include a $1.50 Preservation Fee that goes directly into our capital account for preservation of the Lincoln Theatre and its programs.
 
Film tickets are only available at the door beginning 45 minutes before the first screening of the day. This saves you, the ticket buyer the fees associated with purchasing online. Never fear – there are plenty of seats!
 
Monday film screenings are part of the Lincoln Theatre Member Mondays! Click here for details. Film dates and times are subject to change and extended runs. Please check back here, or our phone message at 360.336.8955, day of show.