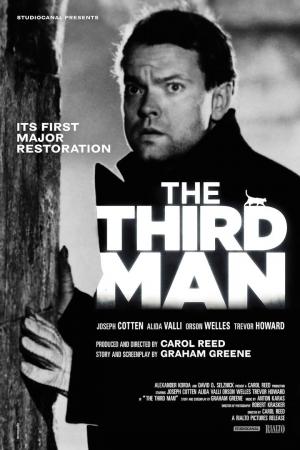 Wednesday, Sep 16, 7:30 pm
The first major restoration of this classic film noir.
 
In post-war Vienna, Holly Martins (Joseph Cotton) arrives to meet up with his old friend Harry Lime, only to find that he's dead - or is he?  As a stranger in a strange land, he descends through levels of deception, and as he discovers his own friend's corruption, the moral choices loom.  
The Third Man is a triumph of atmosphere, with its stars in perhaps their most iconic roles: Trevor Howard at his most Britishly military; Alida Valli, here truly enigmatic and Garboesque; and Welle's Harry Lime, arriving in one of the greatest star entrances ever. 
 
Three Oscar nominations: direction (Carol Reed), editing, cinematography; the Grand Prize at Cannes.  Screenplay by Graham Greene. Members attending our Annual Meeting at 6:30pm for FREE.
 
"One great scene after another! One great shot after another! I've seen it 50 times and it's still magic." — Roger Ebert
 
Advance Tickets: $12 plus applicable fees. Lincoln Theatre Members receive a $2 discount.