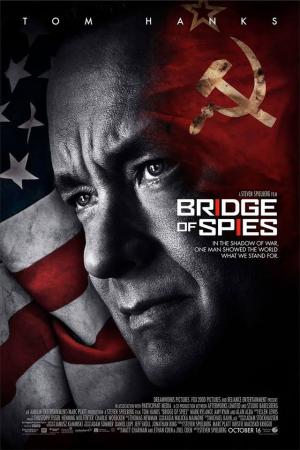 Starring: Tom Hanks, Alan Alda, Mark Rylance, Amy Ryan
 
Bridge of Spies tells the story of James Donovan (Tom Hanks), a Brooklyn lawyer who finds himself thrust into the center of the Cold War when the CIA sends him on the near-impossible task to negotiate the release of a captured American U-2 pilot.
 
Director: Steven Spielberg
 
What the critics are saying:
 
Total Film, Phillip Kemp
 
Political intrigue abounds as Spielberg grippingly recreates a famous real-life spy-swap case of the Cold War, with both Hanks and Rylance on top form.
 
Chicago Sun-Times, Richard Roeper
 
Spielberg has taken an important but largely forgotten and hardly action-packed slice of the Cold War and turned it into a gripping character study and thriller that feels a bit like a John Le Carre adaptation if Frank Capra were at the controls.
 
Chicago Tribune, Michael Phillips
 
The film is an anomaly — a confident, slightly square, highly satisfying example of old-school Hollywood craftsmanship, starring a major movie star brandishing a briefcase, and a handkerchief, rather than a pistol.
 
The Globe and Mail (Toronto), Kate Taylor
 
The ever-reliable Hanks sympathetically personifies all in America that is worth fighting for, while his British colleague's surprisingly comic version of Rudolf Abel portrays the Russian spy as a man quietly steadfast in his loyalty to a different cause.
 
Washington Post, Ann Hornaday
 
Bridge of Spies expands from being a smart, engrossing procedural to a carefully observed character study of Donovan, a particularly intriguing, heretofore overlooked American figure.
  
Film Prices:
 
General: $10.00
Seniors, Students and Active Military: $9.00
Members: $8.00
Children 12 and under: $7.00
 
Sunday Bargain Prices:
 
General: $8.00
Members: $6.00
Children 12 and under: $5.00
 
Add $2.00 to the above prices for 3D screenings.
 
Your membership with the Lincoln Theatre saves you $2.00 per film ticket.
 
*All prices include a $1.50 Preservation Fee that goes directly into our capital account for preservation of the Lincoln Theatre and its programs. Film tickets are only available at the door beginning 45 minutes before the first screening of the day. This saves you, the ticket buyer the fees associated with purchasing online. Never fear – there are plenty of seats!
 
Monday film screenings are part of the Lincoln Theatre Member Mondays! Click here http://www.lincolntheatre.org/benefits-membership for details.
 
Film dates and times are subject to change and extended runs. Please check back here, or our phone message at 360.336.8955, day of show.