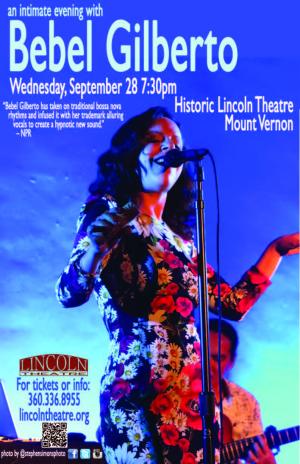 Wednesday, September 28, 2016 - 7:30pm
Advance Reserved Seating Tickets, $35 first section; $30 second section; $25 third section; $20 fourth section, with $2 off for Lincoln Theatre Members.
 "Bebel Gilberto has taken on traditional bossa nova rhythms and infused it with her trademark alluring vocals to create a hypnotic new sound." – NPR
 
"Atmosphere is everything to this music, and it's an atmosphere that creates a cozy realm between the retro and the fashionable, and between Brazil and international clubland." – New York Times
 
World-renowned singer-songwriter Bebel Gilberto, who has earned multiple Grammy nominations over the course of her career, has captivated fans and earned media acclaim worldwide with her trademark electronic bossa nova, taking over clubs around the world and positioning Bebel as one of the top-selling Brazilian artists in the U.S. since the '60s. Gilberto's penchant for sonically transporting listeners to Brazil, with bright, incandescent bossa nova-infused melodies, lyrics about love, and a lilting performance style has earned her raves for her live performances.
 
Gilberto was born in New York City to Brazilian parents, bossa nova pioneer João Gilberto and singer Miúcha, who were briefly living in the city at the time of her birth. She often traveled with her father when he recorded albums in different countries; she lived in Mexico at age three and moved to Rio de Janeiro at age five. Her musical education was her childhood in Brazil and has been performing since her youth in Rio de Janeiro.  She was surrounded by extended family including her uncle Chico Buarque and family friends like Milton Nacimento, Tom Jobim, Caetano Veloso, and João Donato; she made her first recording at age 7. "I will turn 50 this year, so I've been recording and performing music for 47 years!" exclaims Bebel with a laugh.
 
Bebel's influences are vast and eclectic. In addition to living and breathing all types of Brazilian musical styles as a child, she was exposed to the greats, from Debussy to Prince; Michel Legrand to Billie Holliday; Bjork to Gershwin. She also has a strong love for North American soul; she discovered Donna Summer, Earth Wind and Fire, and Michael Jackson on the dance floor as a budding teenager. "The whole disco thing plays a big role in my heart," says Bebel, who still loves to dance.
 
Several years after Bebel moved to New York City in 1991 her present day sound of electronic meets Brazilian began to crystallize. "Little by little, I learned what I wanted musically," says Bebel, who gigged all around the city and collaborated with many artists. "I think there I became a New Yorker—with a Brazilian heart of course!