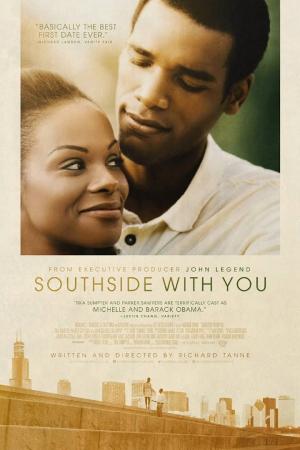 Chronicles the summer 1989 afternoon when the future President of the United States of America, Barack Obama, wooed his future First Lady on an epic first date across Chicago's South Side.
Starring: Parker Sawyers, Tika Sumpter
Director: Richard Tanne
What the critics are saying:
RogerEbert.com, Odie Henderson
This down-to-earth approach works surprisingly well because Southside with You never loses sight of the primary tenet of a great romantic comedy: All you need is two people whom the audience wants to see get together—then you put them together.
Hitfix, Drew McWeeny
Southside With You is quietly romantic, but more than that, it burns with a deep sense of optimism.
Time Out London, Dave Calhoun
It's a small, successful sketch of now-great lives.
The Playlist, Noel Murray
The movie holds to a steady but too-straight rhythm, hitting all the expected romantic-drama beats, right down to the occasional argument that threatens to stop the date cold. But Southside With You is also winningly sweet and earnest, and refreshingly frank about the problems that minorities face when they try to get ahead in a culture dominated by white males.
Film Prices:
General: $10.00
Seniors, Students and Active Military: $9.00
Members: $8.00
Children 12 and under: $7.00
Sunday Bargain Prices:
General: $8.00
Members: $6.00
Children 12 and under: $5.00
Add $2.00 to the above prices for 3D screen
Your membership with the Lincoln Theatre saves you $2.00 per film ticket.
*All prices include a $1.50 Preservation Fee that goes directly into our capital account for preservation of the Lincoln Theatre and its programs. Film tickets are only available at the door beginning 45 minutes before the first screening of the day. This saves you, the ticket buyer the fees associated with purchasing online. Never fear – there are plenty of seats!
Members have benefits: Click here http://www.lincolntheatre.org/benefits-membership for details.
Film dates and times are subject to change and extended runs. Please check back here, or our phone message at 360.336.8955, day of show.