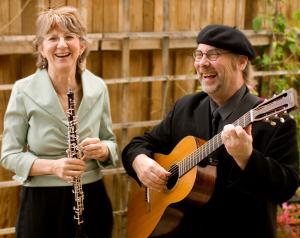 Friday, December 8, 2017 - 7:30pm
Advance Reserved Seating Tickets: $25 adults; $20 seniors/students; $10 children 12 and under + applicable fees. Lincoln Theatre Members receive a $2 discount!
Member pre-sale beginning Friday, September 15. General Public: Friday, September 22.
Celebrate the Enduring Spirit of the Season
Each and every season for 32 years, Grammy Award-winning artists, Eric Tingstad and Nancy Rumbel have been home for the holidays creating a longstanding tradition with Northwest families. Their holiday presence illuminates the enduring spirit of the season with a gift of song.
The perfect blend of Americana fingerstyle guitar, double reeds; and the ocarina emitting the nostalgic sound of penny whistles, lends magic to the season that fills the world with hope through the redeeming power of music. The enduring relationships Tingstad & Rumbel have created through the years continue to bring family and friends together as memories are made and cherished thereafter.
Festive and reverent, solemn and lively, the repertoire Eric and Nancy bring to audiences year after year are perennial favorites that have been passed down through the ages. Eric and Nancy first collaborated in 1985 recording their debut CD, The Gift which quickly became a holiday classic. Their holiday discography includes, Comfort and Joy, Star of Wonder, and Peace on Earth.
Well-known throughout the country and throughout the music industry, Tingstad & Rumbel won the Best New Age Grammy Award in 2003 in support of Acoustic Garden. Tingstad's latest ensemble release, Southwest was nominated for a Grammy in 2007.
Eric Tingstad's latest CD - Mississippi went to #1 on the radio charts world Wide last July and came in at #2 in the Top 100 for the year.  His CD was also Nominated for Album of the Year and Best Contemporary Album at the ZMR Music Reporter Awards held in New Orleans.
For more information about their touring schedule, history, and discography of Tingstad and Rumbel, please visit http://tingstadrumbel.com.
Grammy award winning artists Tingstad and Rumbel having been delighting audiences across the country for over 30 years combining American finger-style guitar with beautifully melodic woodwinds.
Well-known for their beautiful original compositions and innovative treatment of popular standards, Eric Tingstad (guitar) and Nancy Rumbel (oboe, English horn and ocarina) with an expanded world style ensemble, create Classically inspired music from America, the British Isles, Asia and Spain. A mix of original and covered tunes including Tex-Mex stylings, Caribbean rhythms, Americana fingerpicking and devotion to the American songbook.