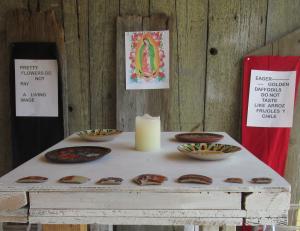 angelica guillen
   I was born in Mexico. When I was five years old, my parents brought my siblings and me to USA. We lived in a migrant labor camp (campo) outside La Conner and worked in the fields of Skagit County for over 20 years. My family has lived in Skagit County for 54 years.
   I am a MEChA Alumni, a 60's Civil Rights Worker in "La Causa," a Girl Scout leader for twelve years. I retired as a Composition and Literature Instructor, Skagit Valley College, 2010
   Most joyously, I am the mother of Rocio and Candelaria Lopez and abuelita of Baron Dorsey.
artist statement
lincoln theatre installation title
Pretty Flowers |||
Do Not Pay Livable Wages |||
Do Not Taste Like Arroz Frijoles y Chile
 while we sigh joyously at the beauty of tulips and the economic boom that the tulip festival brings to us, we hide our citizen-hearts from seeing, feeling the plight of fieldworkers who harvest the tulips. WHY?
regarding my art and writings
mexican migrant labor camp women's deep spiritual grace and respectful love of nature, humanity and community is the breathing life in my writings and art. i lived, worked by their side daily, learning the values of a good life. despite poverty, plywood walls/dirt-floor "housing," and lack of access to medical care, these women workers kept their familias strong/safe by making their small cabinas beautiful, clean and always blessed by la Virgin Guadalupe. to the women of all labor camps, you were/are my best
teachers.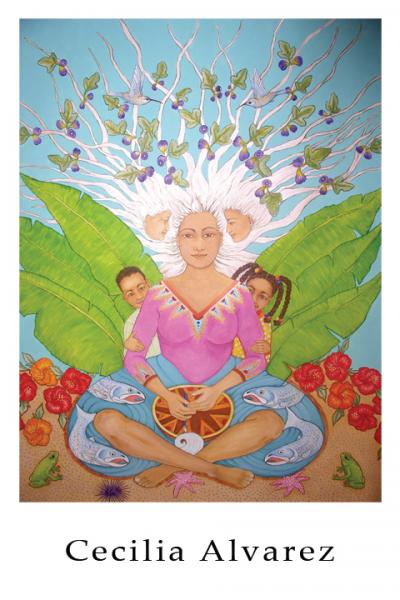 En el Jardin de mi Abuelita
Cecilia Concepcion Alvarez was born in National City, California. Her mother is Mexicana and her father is Cubano. Cecilia was raised between San Diego, California, USA and Ensenada, Baja California del Norte, Mexico. This cultural and political mix inspires much of her work. Cecilia studied Sociology at San Diego State University. In 2001, she was honored as an Illustrious Alumna by SDSU's Chicano/a Education and Woman Studies. She has work in Higher Education and in K-12 education for 25 years, as well as being a full-time artist and lecturer. Ms. Alvarez is a self-taught artist. Her work reflects her perspective on being a Chicana/Latina. She is primarily a painter who has also created large-scale public art. Ms. Alvarez has worked extensively with youth in creating murals and cultural awareness. Cecilia has been invited to lecture on the symbols in her artwork throughout the United States and is featured in many private collections. Her work has been shown regionally, nationally as well as internationally. Ms Alvarez is committed to create discourse through her art, on issues of entitlement, poverty and who is expendable in our collective. She hopes this discourse will create a new and healthier perspective on what is beauty, power and important to our societies. Ms. Alvarez currently lives in Seattle with her husband. She has two lovely young adult children.
Artist Statement:
The understanding of the importance of ethnicity, culture, and the natural world, is crucial to our humanistic evolution.  To vest a society with a mono cultural perspective hinders our abilities as humans to find solutions to the problems that plague us and to evolve as humans. Having a sole cultural reference point can strip us of social and emotional thinking tools.
These tools enable us to view what are true beauty, strength and power. 
Ultimately, without these tools we are ill equipped to value and judge what is truly important.  When we are stripped of these values, devaluing and devoid of the richness and knowledge we have accrued, we become passive vessels for corporate consumer culture; slaves to fear and accomplices in the destruction of society and the environment.
These are some of the issues that I try to deal with in my life and my art.
 
The artists invite all to a reception on Monday, May 6 from 6:00 - 7:30pm prior to our screening of 'Bless Me, Ultima'.